We may earn income from links in this post. Please read this Disclosure for details.
Planning a couples getaway, family vacation or honeymoon and looking for the best Caribbean beaches without seaweed?
If you've been reading about  sargassum seaweed problems in Mexico, Florida and the Caribbean, you might be wondering which Caribbean islands are not affected by seaweed and brown algae. 
It's especially important to think about in 2023. There's been a record-breaking sargassum seaweed bloom in 2023 in the Caribbean Sea.  
In order to help you plan your beach vacation, we've created a list of Caribbean beaches not affected by sargassum seaweed historically.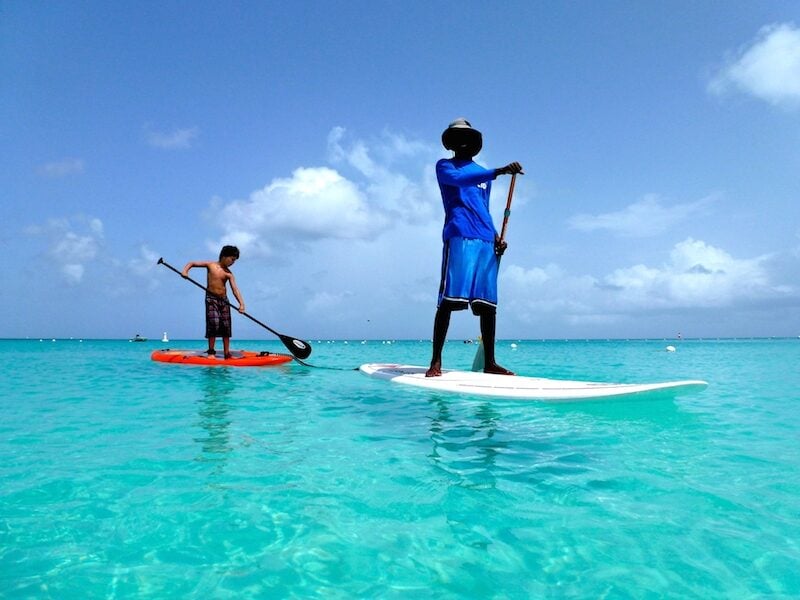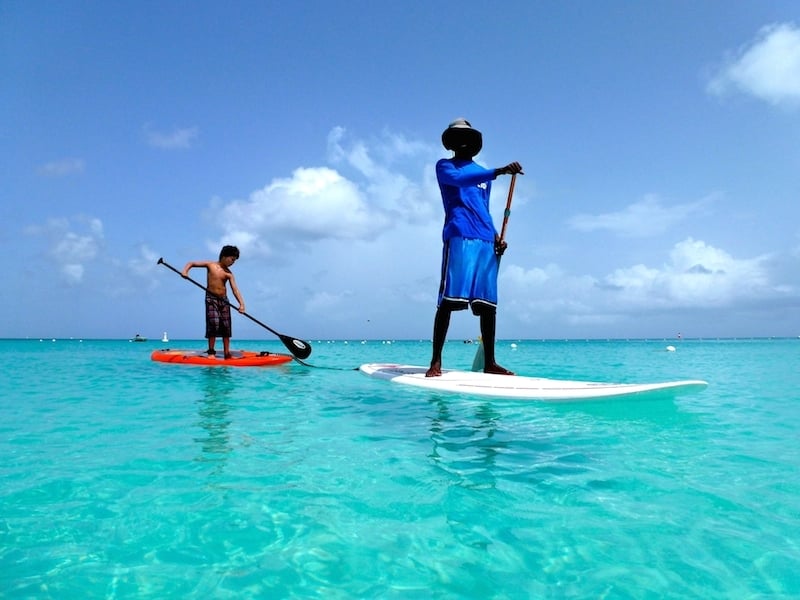 This article was originally published in 2019. Each year, our Caribbean experts regularly visit dozens of islands in the Caribbean.
We also consult scientific resources at the University of South Florida oceanography laboratory for information and forecasts on sargassum seaweed in 2023 and beyond. 
There's never a guarantee you won't find sargassum seaweed.
But based on their history, these beaches should be a good starting point for planning a Caribbean beach vacation in seaweed season.  
Facts about Sargassum Seaweed 
The world's largest sargassum seaweed bloom — known as the Great Atlantic Sargassum Belt — now stretches 8850-kilometres long from West Africa to the Caribbean Sea and the Gulf of Mexico, says Science magazine.
While there used to be an identifiable seaweed season of May to December, sargassum seaweed is arriving earlier, staying longer and the mats of seaweed are larger in size.
This increases the likelihood of encountering the unpleasant brown algae on your Caribbean vacation.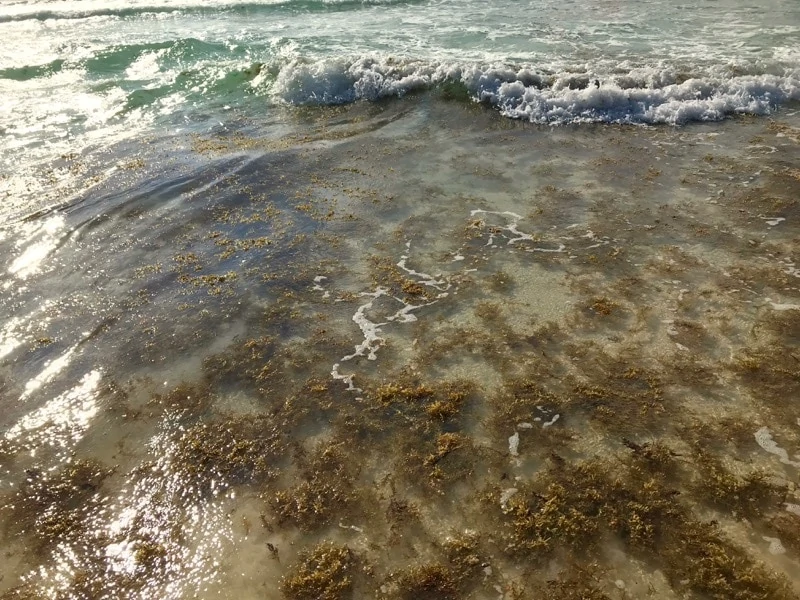 The University of South Florida regularly produces a report titled Outlook of Sargassum blooms in the Caribbean Sea and Gulf of Mexico (known as (SaWS).
This report assesses the quantity of sargassum seaweed in the central Atlantic and tracks its movement and landings on beaches in Mexico, Florida and the Caribbean.   
It identified heavy influxes of sargassum in 2018, 2019, 2022 and early 2023. Caribbean islands most affected by sargassum seaweed in the past include beaches in Barbados, Tobago, Guadeloupe, Dominican Republic and Martinique. 
Caribbean Sargassum Seaweed in 2023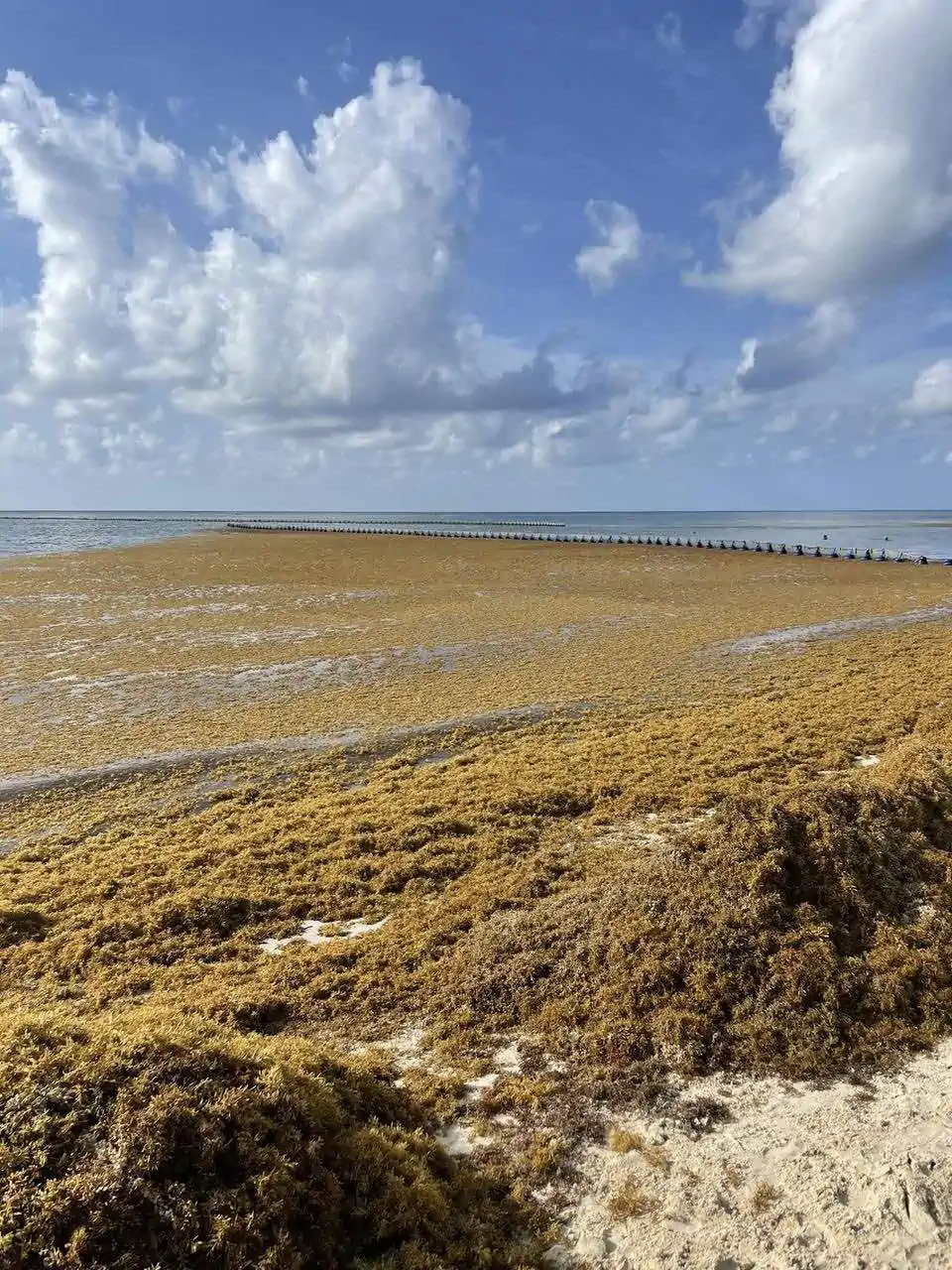 However, it's important to note that even on islands affected by an influx of sargassum algae there are often beaches with no seaweed on the same island.    
For example, in 2022, when mainland of Playa del Carmen, Mexico had a severe sargassum seaweed problem, the leeward beaches of Isla Mujeres and Cozumel were free of seaweed. 
And in Barbados, Carlisle Bay often has no issues with sargassum.  
While there's no guarantee, if you're planning a beach vacation and looking for Caribbean islands not affected by seaweed and Caribbean beaches without seaweed, here are some destinations to consider:
1.  Grand Anse  in St. Georges, Grenada: A Caribbean Beach Without Seaweed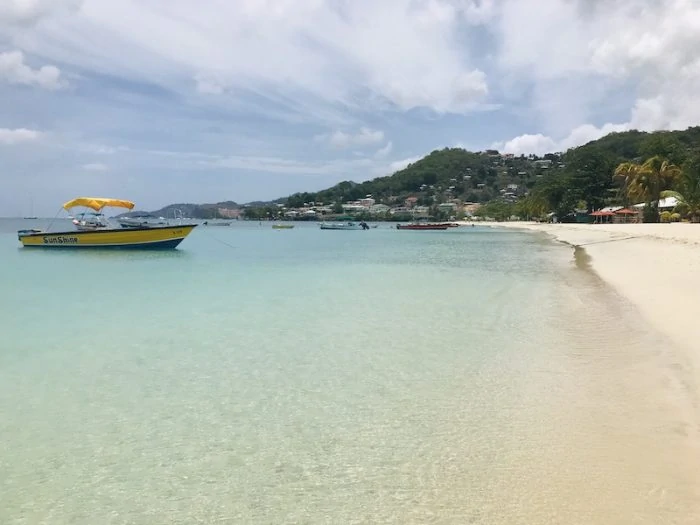 With its organic bean-to-bar chocolate, artisanal rum plantations and mountainous interior dotted with waterfalls, there's lots to love about the Caribbean island of Grenada  without even considering its idyllic  beaches.
In Grenada, Grand Anse regularly tops the list of the world's best beaches due to its crystal clear waters and its 2 kilometre long stretch of white sand dotted with palm trees.  
It's also blessedly free of sargassum seaweed.
Even at the height of seaweed season, you'll rarely see anything except a star fish in the water. There are lots of resorts to choose from on Grand Anse Beach, but here are my favorites:   
Check availability and prices at Spice Island Beach Resort, a luxury hotel on Grand Anse Beach, on Booking.com. 
Check availability and prices at Radisson Grenada Beach Resort, the best mid-range hotel on Grand Anse Beach, Grenada on Booking.com.   
Check availability and prices at the Siesta Hotel, a budget hotel near Grand Anse Beach, on Booking.com.  
🌟 Disclaimer: Sargassum seaweed conditions can change quickly due to prevailing winds, ocean currents, tides and other factors. It's impossible to predict with any accuracy where seaweed will land. We take no responsibility for decisions made based on probabilities so be sure to verify with your hotel before booking. 
2. Morne Rouge Beach on Grenada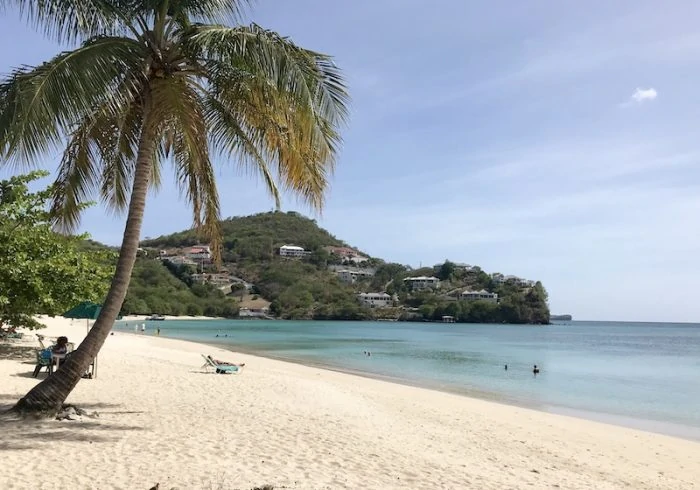 This beautiful seaweed-free beach with turquoise blue waters is also on the island of Grenada.
Morne Rouge also known as BBC Beach is less well known than Grand Anse Beach but is also rarely affected by sargassum seaweed.
It's especially popular with families as the waters are very calm for swimming. Morne Rouge is a great option if you're looking for a family-friendly Caribbean beach without seaweed.
While there are several budget hotels and condos for rent overlooking Morne Rouge, the closest 4-star hotel is Mount Cinnamon Resort, a short drive or hilly walk away. 
Check rates and availability at Mount Cinnamon Resort on Booking.com.
3. Grace Bay Beach in Providenciales, Turks and Caicos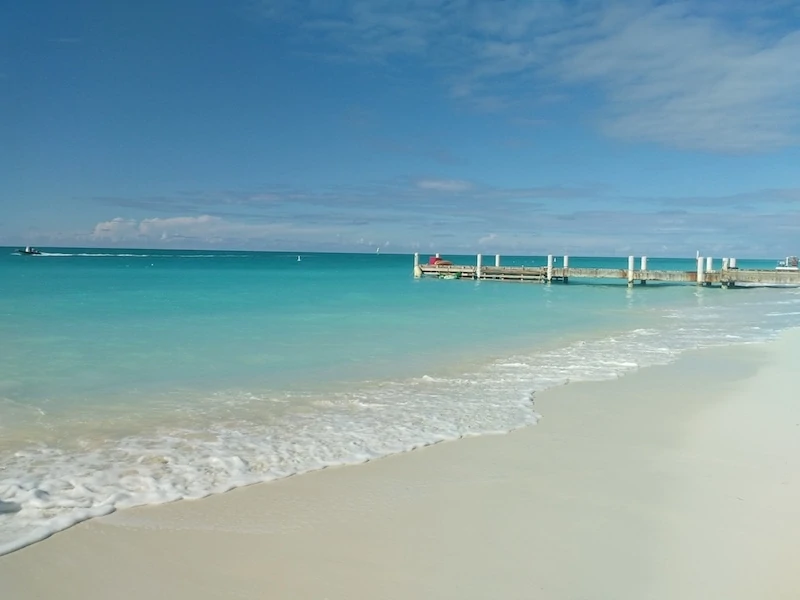 Another of the most beautiful beaches in the world, Grace Bay Beach features clear waters and powder soft sand. This long beach is protected by a barrier reef so is especially calm.
The ocean bottom at Grace Bay Beach is smooth and clean.
Grace Bay in Providenciales, Turks and Caicos is definitely a destination to consider if you're looking for Caribbean beach without seaweed for a family, couples or group vacation.  
Although the Turks & Caicos participates in the Caribbean Development Bank, it's technically situated north of the Caribbean and in the tropical Atlantic. However, the waters are as blue as the Caribbean! 
On the opposite coast, Long Bay Beach is known to receive some seaweed on its shores.  It's more of a windswept beach with dramatic wave action and has its own unique beauty.
Browse this  Turks and Caicos Travel Guide for ideas of fun things to do on this beautiful Caribbean island without sargassum.   
Check prices at The Somerset on Grace Bay on Booking.com. 
4. Palm Beach in Aruba, Dutch Caribbean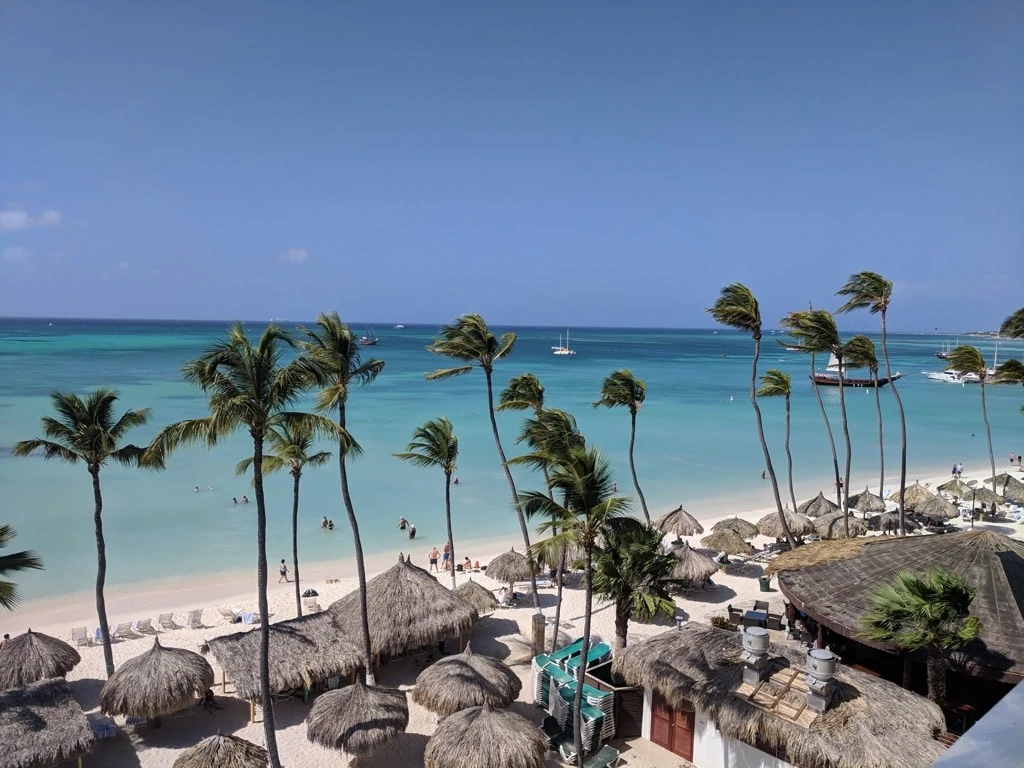 The Dutch Caribbean island of Aruba is best known for its white sand beaches, luxury resorts and cooling trade winds.
In addition to being located outside the hurricane belt, its famous beaches such as Eagle Beach, Palm Beach and Baby Beach also have the good fortune of being outside the sargassum seaweed belt.
So, if you've been spending the winter imagining yourself kicking back on a lounger, sipping a tropical cocktail at a beach bar and floating in idyllic Caribbean waters without any brown smelly seaweed to spoil the fantasy, then consider Aruba.
It's one of the most reliable Caribbean islands without sargassum.
While there are several small, boutique-sized hotels in Aruba, here are two of our favourite large resorts on Palm Beach and Eagle Beach.  
Check prices and availability on the Holiday Inn Beach Resort & Casino, Palm Beach on Booking.com
Check prices and availability on the Divi Aruba Phoenix Beach Resort set on a prime stretch of beach with easy access to swimming and water sports.
5. Playa Porto Mari on Curacao, Dutch Caribbean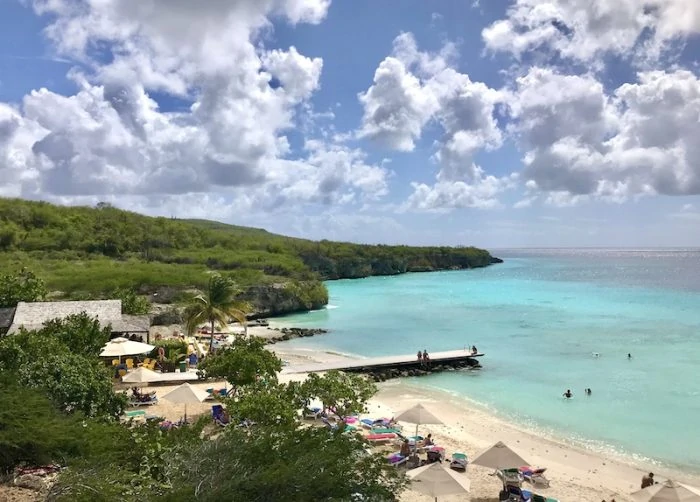 One of the most beautiful beaches in Curacao also happens to be one of the best Caribbean beaches without sargassum.  
Located on the west coast of the island of Curacao, Playa Porto Mari is a private beach which means there is an entrance fee. Check the Porto Mari website for hour and prices.
Along with the fee you get clean washrooms, an outdoor shower, parking, a lookout for photo ops, a floating dock, a restaurant/bar,  lounge chairs for rent and more.
This Curacao beach delivers the full tropical beach fantasy with all the conveniences. 
Although there are some rocks at the entry to the water, family-friendly Porto Mari has a sandy ocean bottom, gentle waves and no under currents as it's protected by a double off-shore reef.
It's one of the best beaches for snorkeling in Curacao. Along with the Dutch Caribbean island of Bonaire, is also popular among scuba divers.
There's also the unique attraction of wild pigs that roam freely – you might spot them ambling by at the end of the day. Playa Daaiboo, a public beach with free admission, is also nearby. 
🌟 Insider Tip: Check out the Free Things to Do in Curacao to see wild flamingoes and other attractions on your way to PortoMari. 
6. Bloody Bay and Long Bay Beaches in Negril,  Jamaica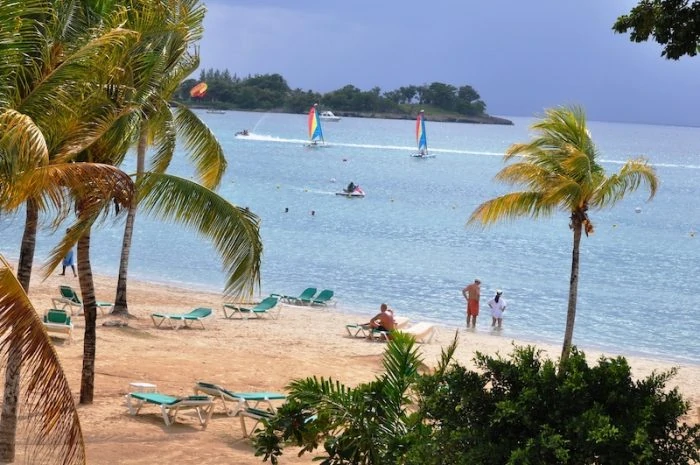 One of the largest Caribbean islands, Jamaica offers several coastlines and beaches to choose from.
Although there have been issues with foul-smelling sargassum seaweed in Jamaica (such as Fort Clarence Beach near Kingston) the beaches in Negril have generally been free of sargassum seaweed. 
🌟 Note: There is a difference between seagrass (which grows on the ocean bottom) and sargassum seaweed, a free-floating mass of seaweed that accumulates on the ocean's surface.
Check prices on Couples Swept Away Negril, an adults-only resort set on a beautiful stretch of beach in Negril, on Booking.com. 
7.  Beaches in Antigua & Barbuda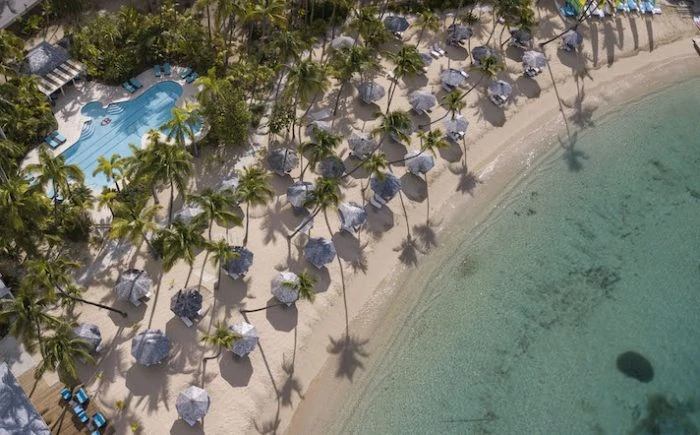 Although the luxurious St. James Club in the eastern windward side of Antigua in the Caribbean's Leeward Islands had to shut down for three months in 2019 due to a massive influx of sargassum, many other beaches in Antigua often have no sargassum seaweed. 
Located on the southern tip of Antigua, Curtain Bluff Resort's two beaches receive very little seaweed.
The boutique resort features 72 rooms,  all-inclusive gourmet dining as well as plenty of diversions including tennis, squash, sailing, guided snorkelling and sea kayaking. 
Sargassum on Antigua Beaches in 2023
Dickenson Bay, Jolly Beach and other beautiful beaches in Antigua on the west coast of Antigua have historically not received an influx of sargassum.
But due to wind currents and other factors, considerable sargassum and sea grass has been reported on some stretches of Dickenson Beach,  Jolly Beach and others as well as in the water as of March 2023.
This includes Sandals Grande Antigua Resort & Spa. Beach conditions in Antigua change quickly so check before you travel.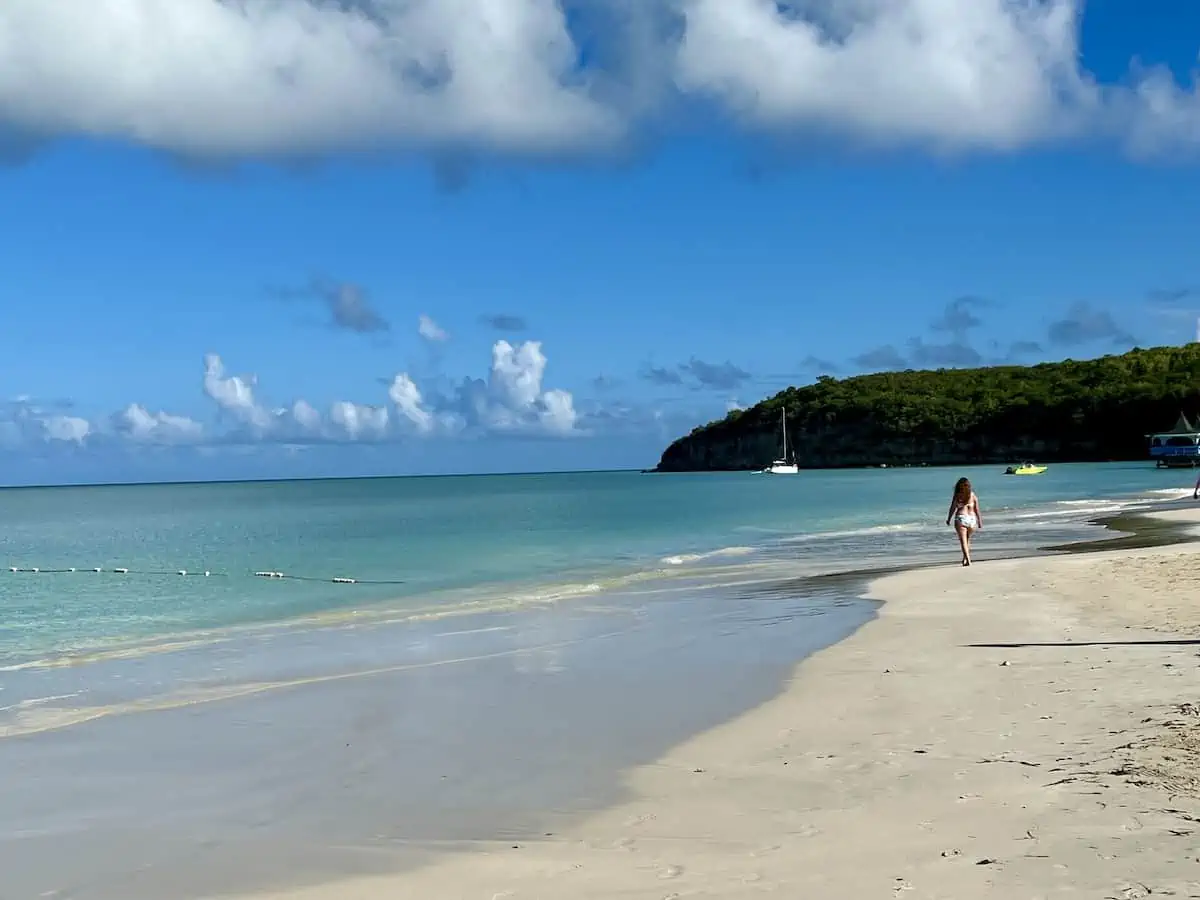 It's worth looking into Darkwood, Carlisle Bay and FFryes beaches as they are popular beaches without sargassum in the past.
For updates on the best Caribbean beaches without seaweed  browse the reports and photos of sargassum seaweed conditions in Antigua on the Antigua Sargassum Seaweed Observations Facebook group.    
8. Playa Norte on Isla Mujeres and Best Beaches Without Seaweed in Mexico 
If you have your heart set on visiting Mexico's Caribbean coast, it's still possible to find beaches with no sargassum seaweed along this vast coastline.
While exposed eastern shores are most likely to get hit by surges of sargassum, some beaches in Mexico have no sargassum.
This includes Playa Norte on Isla Mujeres, Quintana Roo and Cozumel's western shore. They're generally seaweed-free. However, much depends on winds and ocean currents.
It's also worth considering the beaches on Mexico's Pacific Coast if you're looking for beaches without seaweed. While the water along Mexico's Pacific beaches is darker blue and not as warm as the water along its Caribbean beaches, Pacific beaches aren't affected by sargassum seaweed in the Atlantic.
Sargassum seaweed originates in the Atlantic so it doesn't migrate to the Pacific.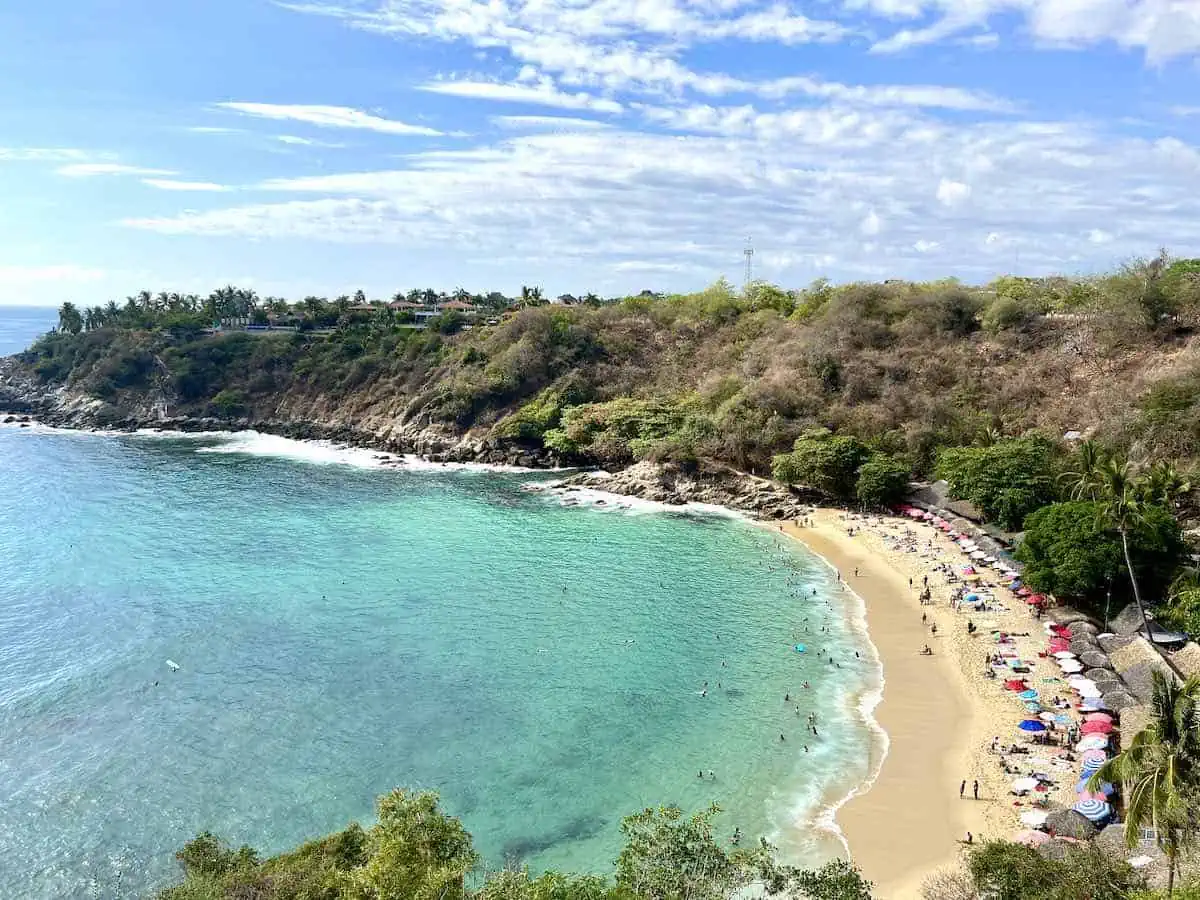 Some of the prettiest Mexican beaches are located on the the country's Pacific Coast.
Top beaches in Mexico without seaweed for a beach vacation include Carrizalillo Beach (Puerto Escondido), Punta Mita, Mismaloya and Bucerias (near Puerto Vallarta) and Santa Cruz beach and San Agustin beach (Huatulco). 
🌟 Note: Red tide is a different phenomenon than sargasso seaweed and all beaches can temporarily be affected by red tide algae.  
Check availability and prices on Zoetry Villa Rolandi Resort & Spa on Isla Mujeres, Quintana Roo on Booking.com.
9. Little Bay Beach, St. Maarten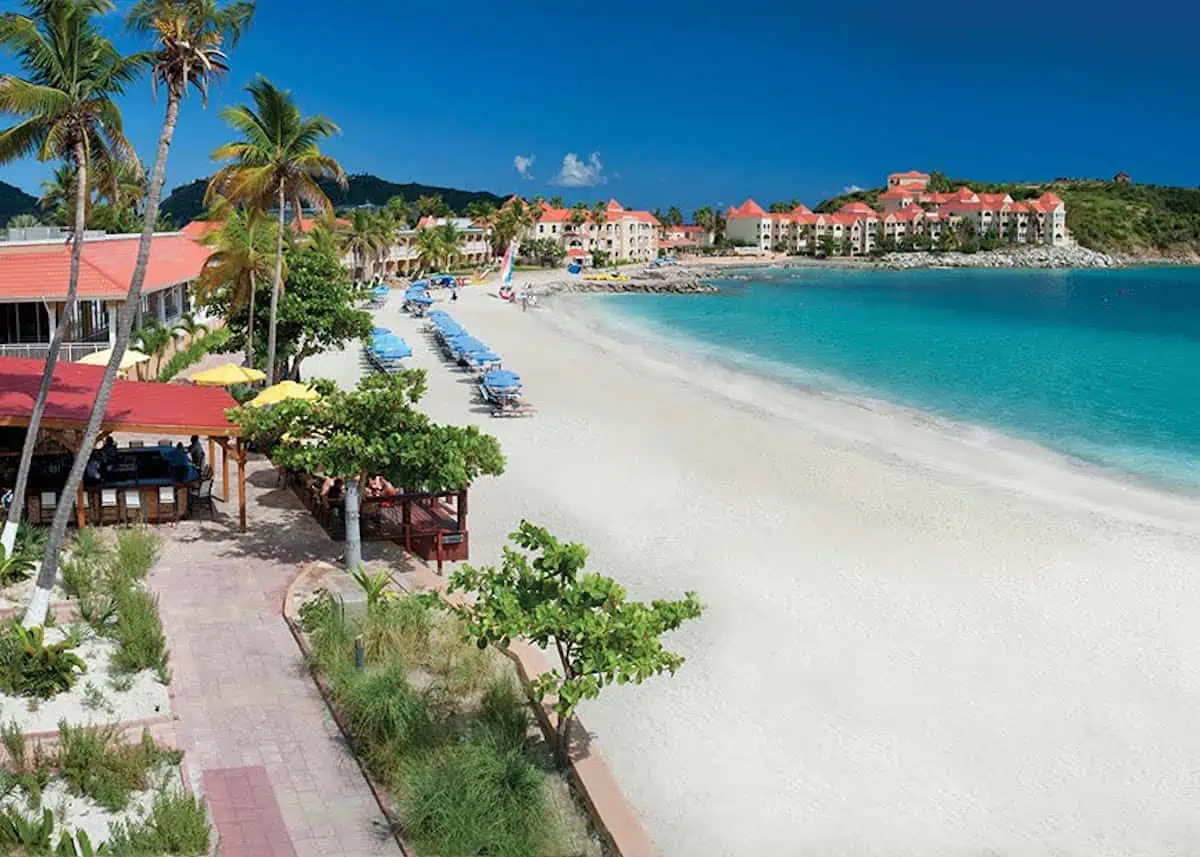 This little dual nation island (one side is Dutch, and the other side is French,) has 37 lovely beaches dotted around its 34 square miles. It occasionally has problems with sargassum, but mostly on the east coast.
If you're looking for a beach without seaweed in St. Maarten, Little Bay Beach, on the southern side and minutes from the capital of Philipsburg is a good bet.
It's rarely affected by sargassum seaweed as it's on its own peninsula and protected by rocky outcroppings on either side.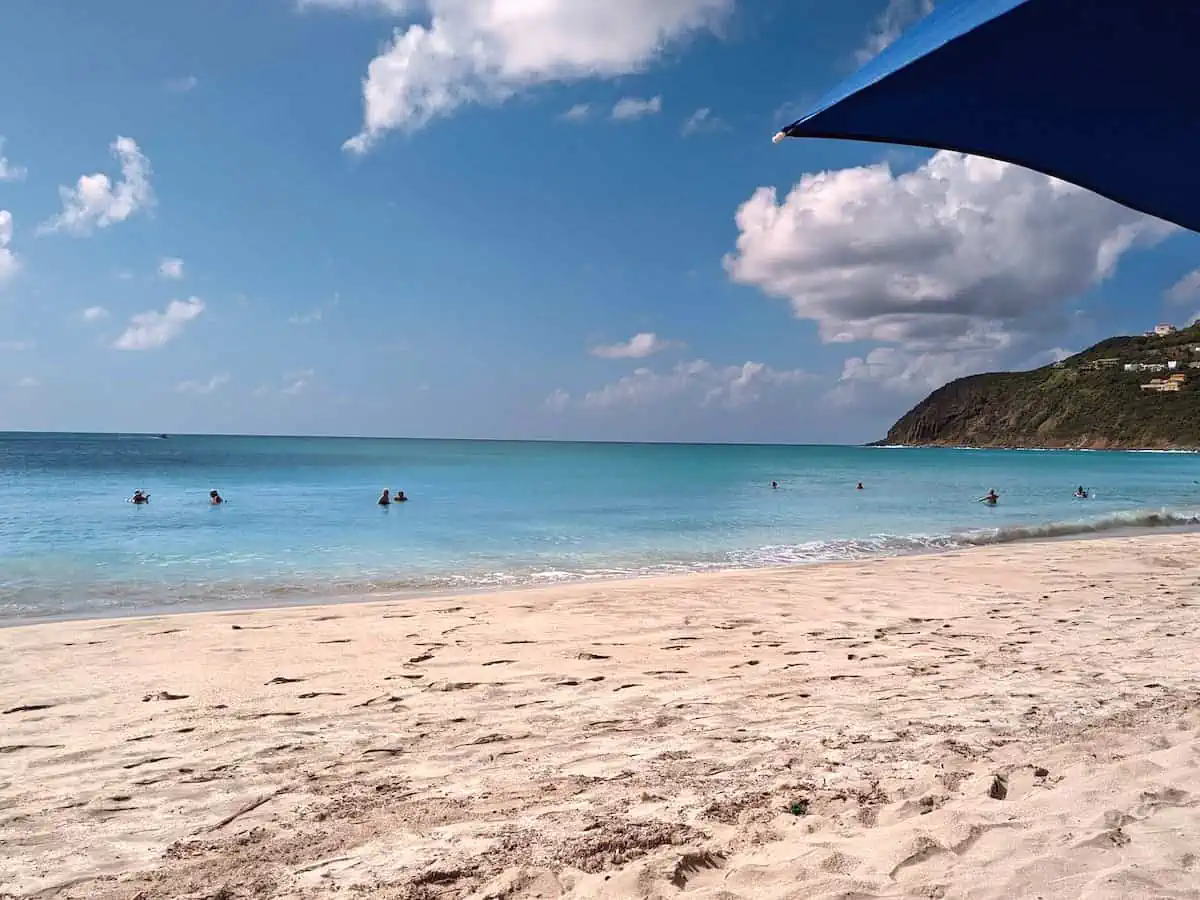 Though it is the main beach of the sprawling all-inclusive Divi Little Bay Beach Resort, all beaches on this island are open to the public.
Non-guests are welcome, and there's a stand-alone operator renting chairs and umbrellas. 
You can also purchase a Day Pass to enjoy the resort's stellar water circuit and all the food and beverage offerings.
🌟 Insider Tip: There is excellent snorkeling right off the Divi pier. Rent equipment on site from Aqua Mania Adventures.
You are sure to spot scads of tropical fish on their house reef, and if you're lucky you might even see spotted rays and sea turtles! 
10. Bayahibe Beach in Dominican Republic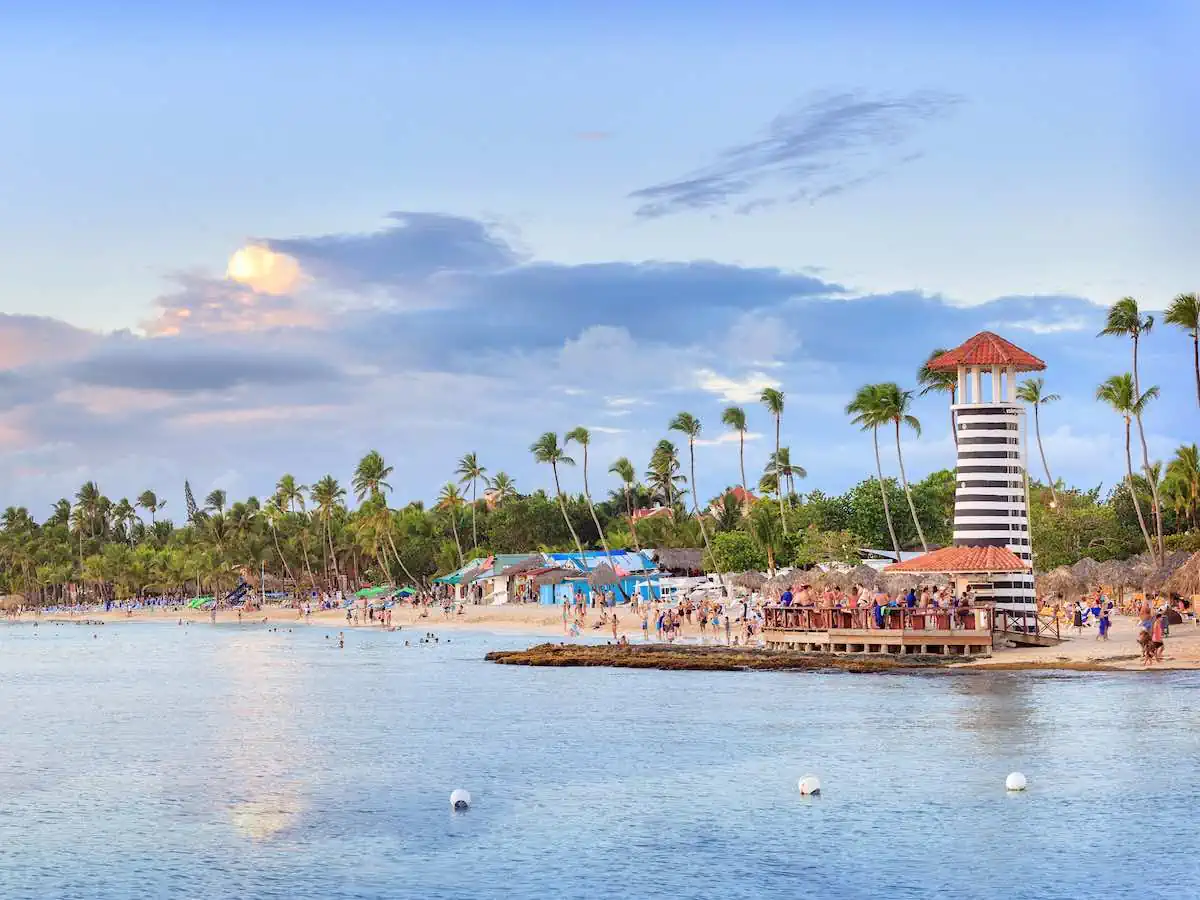 While Bavaro Beach in Punta Cana, Dominican Republic is known to receive large amounts of seaweed, the beaches on the country's southern coast often have no seaweed at all.  
Bayahibe beach, located just 30 minutes from La Romana, is a good option for beaches in Dominican Republic with no seaweed.
It has powdery white sand dotted with lofty palm trees and crystal clear waters. It's the perfect place to enjoy a quintessential tropical beach day in the Caribbean.
Forecast 2023 for Sargassum Seaweed in the Caribbean 
According to the University of South Florida oceanography laboratory, the large sargasso seaweed mat in the east-central Atlantic in early 2023 meant a high risk of major blooms of seaweed in 2023.
However due to ocean currents, the amount of seaweed landing on beaches in the Caribbean and the Gulf of Mexico in June and July 2023 was lower than expected.
There's more good news! The sargassum seaweed forecast for September 2023 is minimal seaweed in the Caribbean Sea. And there is expected to be no seaweed in the Caribbean Sea in October 2023.
Note that it's often to possible to find seaweed-free beaches even during sargassum season.
Even at the peak of the seaweed problem in Cancun, it was possible to find seaweed-free beaches to enjoy.
Tracking Caribbean Sargassum in 2023 and Seaweed Forecasts for 2024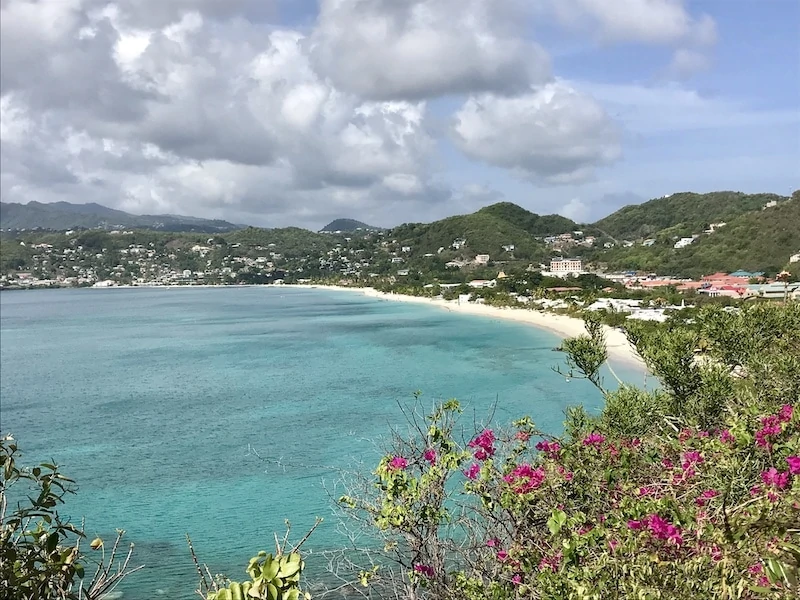 Global News reports that 25 per cent of Canadians book Christmas travel more than three months in advance.
So, waiting for sargassum reports and booking a last-minute trip might not be practical.  
The three best ways to assess the probability if a Caribbean destination will be hit by waves of sargassum include:
Checking the SEAS Program for updated information about when and where sargassum is going to be. Click to access the Seas Forecast. to see real time seaweed forecast for the next 8 days. 
Monitoring the probability of a Caribbean seaweed bloom on the University of South Florida's satellite-based Sargassum Watch System (SaWS).
For the Caribbean coast of Mexico from Cancun to Tulum, visit the Red de Monitoreo del Sargazo Cancun Facebook page for weekly updates on seaweed conditions.    
Remember that seaweed predictions are based on a complex number of factors. These include historical levels, patterns, ocean temperatures, currents and more.
Predictions are probabilities only. So, you can't count on them to be 100% accurate. 
Other Caribbean and Mexico Travel Tips
Save to Pinterest!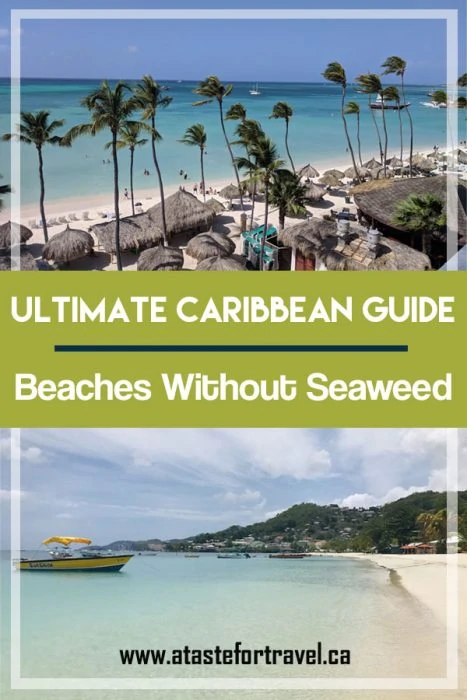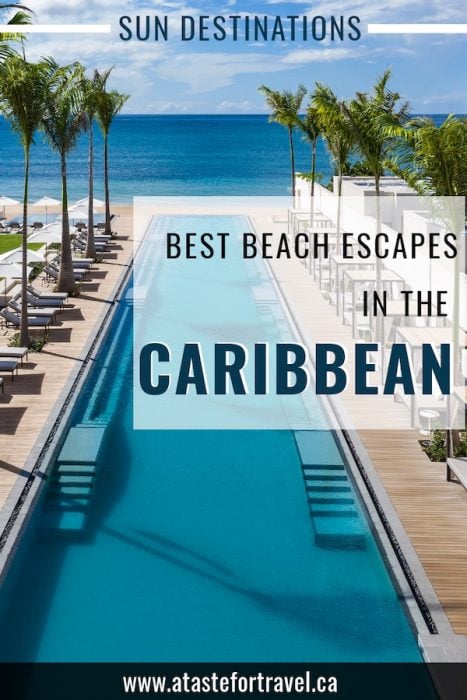 Dividing her time between Canada, Guatemala and Mexico (or the nearest tropical beach), Michele Peterson is the founder of A Taste for Travel. Her award-winning travel and food writing has appeared in Lonely Planet's cookbook Mexico: From the Source, National Geographic Traveler, Fodor's and 100+ other publications.
Read more about Michele Peterson.