I'm sorry to tell you but –
If you don't have access to a computer or laptop you can't do writing online.
And I'll go as far as saying you should own a laptop or computer if you want to make a living as a writer.
No matter what type of writing you're doing, such as writing your next (or first) magazine article, writing blogs for yourself or others, or working on essays for college, a writer needs to have a reliable laptop to work with.
While writers won't need super powerful laptops that are able to handle hours of gaming, they still need a laptop that is powerful enough to handle certain word processing softwares and often need a good amount of storage space.
You also want to be sure you find something that has a good keyboard and is easy to type on for longer periods of time.
You run the risk of hand pain and that's not a good injury to have if typing is your career!
So, when thinking of purchasing a laptop look to see if you want to use an external keyboard, whether or not you want a small or large screen and knowing what applications to have for your laptop.
Lucky for us we don't have to worry about carrying around a laptop that weighs more than a ton of bricks!
One of the other things to consider is how long you're going to need your battery to last.
Are you out and about all day that you need a super long battery life or are you mostly working out of coffee shops or your home office where you have the option to be plugged in whenever you need an extra boost of power?
For me, I type on the couch, on my desk and I rarely take my laptop out but to each their own!
So before I get into the laptops suggestions, let's take a look at some things to consider when looking for the best laptop for writers.
What to Look for in a Laptop for Writers
When looking for the perfect laptop for your writing career, there are a few things to consider: screen size, battery life, size and weight, applications and accessories.
So let's take a look at some specs and options to ensure that you go into your purchase knowing exactly what you want.
Laptop Screen Size
When choosing a laptop for writing check to see if the screen size is large enough so that you can fit everything you need to see on one screen without straining your eyes.
While you can certainly enlarge websites and word documents, it can be a real pain in the butt when you have to continually switch back and forth from one tab to another when you could just have a large enough screen to have two windows open side by side.
Laptop screens can range anywhere from 10.1" up to 18.4" with 11.6," 13.3," and 15.6" being among the most common.
There are also different screen ratios.
Most laptops on the market are a 16:9 ratio, or a wide screen ratio aspect.
While these can be great for watching videos, the laptops with 3:2 ratio are often better for productivity.
Battery Life
There are a lot of things that can determine how long the battery on your laptop will last. If you are running a lot of applications on there at once, your battery is sure to die a bit quicker.
Generally speaking, pricer laptops are going to last longer in both battery life and the overall life of the product.
If you know that you are going to upgrade in a few years, then a cheaper option will work fine for now.
If you want to get something that is going to last as long as possible, then you are going to pay a higher price tag.
When looking at battery life, you have to consider how long the battery will last on a day to day basis, then over the long term.
Size and Weight
If you're going to be carrying your laptop around often, then you are going to want to look for a lighter model.
This may or may not mean that you will have to go with a smaller screen if you are looking for an ultra light laptop for your writing.
If you are only carrying it back and forth to the coffee shop, then it might not matter as much to you how much the laptop weighs.
Applications and Accessories
We can't talk about laptops without also focusing on the applications and accessories that go along with these machines.
Certain brands of laptops only work with certain types of applications and accessories, so be sure to do your research before making your big purchase.
One accessory that I did want to point out is the option to extend your laptop screen without having to carry around a second monitor.
This is a lightweight option to give you more screen space when required.
The Best Laptop for Writers
Now let's dive into the laptops themselves and which laptop for your writing will work for you.
1. MacBook Air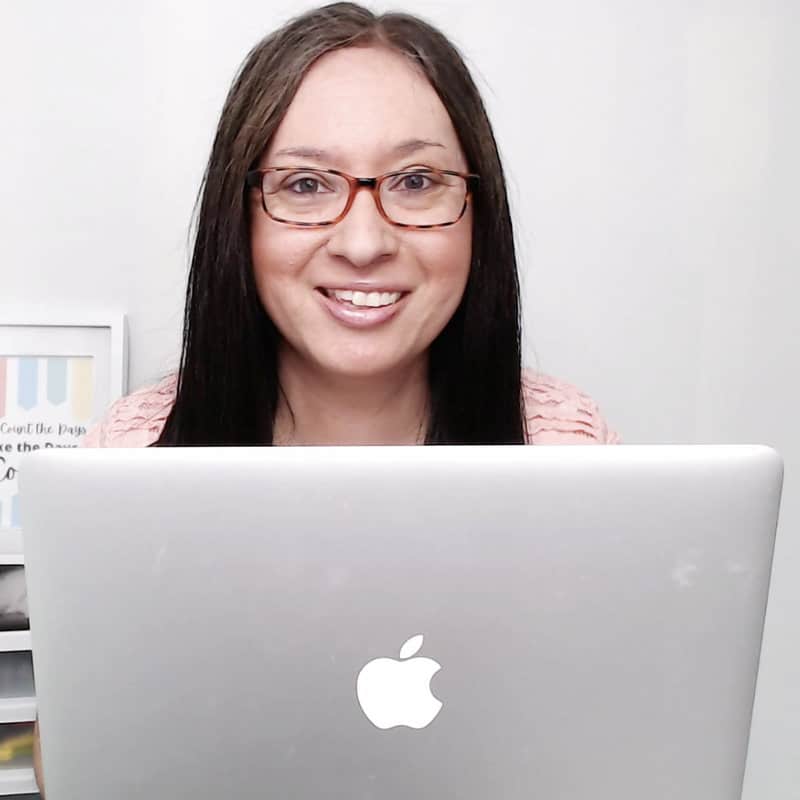 MacBooks have been a favorite for writers for a long time.
The Air version is very lightweight and powerful.
There is an average 13" inch display, which is right in the middle for laptop screen sizes.
Available in 256GB and 512GB to ensure that you have all of the space you need to store your documents and other applications you might use for your writing.
With up to 18 hours of battery life, you can sit and write until your heart's content without having to worry about breaking out of your flow.
It also has a low profile keyboard which many people find comfortable.
I own a MacBook Air (older version) and I enjoy doing some of my work on the couch but know that it can cause hand pain (doesn't matter which laptop I use) if I use it too long this way!
One of the things that I like about the MacBook is all of the accessories and applications specifically available to Macs.
There are sleek, external keyboards, mouses, track pads, skins, keyboard stickers, you name it!
So if you are looking for a powerful writing laptop that you can also add a lot of your own personal touch, then this is a great option. Although the price increases with more storage and other options.
2. Microsoft Surface Laptop Studio
The Microsoft Surface is a very lightweight and powerful PC option.
With a 14.4" display and multi position screen, it's a versatile option for people on the go.
With 512GB and 16GB internal memory, there is plenty of storage. One thing that stands out about this laptop is the option of using a pen and writing on it similar to using a pen and paper.
Changing up your typing to using a stylus can help with hand pain associated with typing.
So if you are the kind of writer that still loves the feeling of the pen in your hand but the productivity of typing, then this is a great option. You can also use it as a tablet.
One drawback, as with most PCs, is that you do need to purchase Microsoft Office 365 separately.
However, if you mainly work in Google Docs, then that might not be necessary.
The Surface also has a higher price tag, but is a great option if you are looking for a powerful, lightweight PC to last you a long time.
3. ASUS Chromebook
If you are looking for the best laptop for writers on a budget, then this ASUS Chromebook is a good choice.
For a price tag just under $250, this affordable option really packs a punch. It has a full 15.6" display, and up to an 11 hour battery life.
The storage is a bit lower than the previous options, which is fine if you are storing most of your stuff in the cloud or on an external hard drive.
4. Lenovo IdeaPad Duet
This tablet hybrid makes a great laptop for writers.
It's a much smaller version of the others mentioned above, but certainly gets the job done.
With up to 22 hours of battery life, you can write when it's most convenient to you without always having to worry about plugging it back in.
It's a very budget friendly option, just as the Chromebook and includes 128GB SSD.
With it being a smaller laptop at 10.1" display, that means that the keyboard is also smaller than most others.
This isn't necessarily a problem, but something to consider.
This is a great laptop to keep on hand when inspiration strikes!
5. HP Envy 360x
We've talked about the higher end laptops and the budget friendly ones.
The HP Envy 360x is the middle of the road when it comes to pricing.
This obviously depends on the amount of memory and SSD within the machine.
There are options for 256GB, 512GB and 1T! With a full 1080p HD, 15.99" display, there is plenty of screen for just about any task you will need to do on there.
It also has a full, backlit keyboard (in case you light to write in the dark), and folds over to also become a tablet.
The Best Laptop Keyboard for Writers
I use the Microsoft Sculpt ergonomic wireless desktop keyboard and mouse.

When it comes to finding the best laptop for your writing, that is a highly personal decision.
You need to determine your budget and what it is you are looking to do on your laptop.
If you are just going to use it to write blog posts or an ebook, then the cheaper options will work just fine.
But if you are looking for a full powered, versatile laptop for writing and more, then check out the entire list of the best laptops for writers in 2023.
Consider These Best Laptops for Writers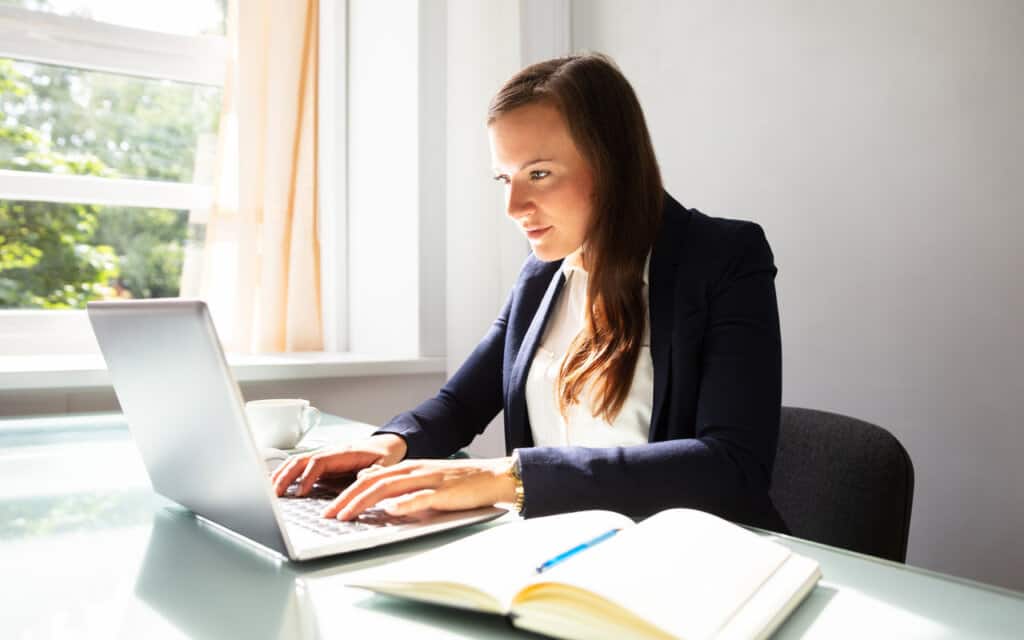 6. Acer Chromebook 314
Who says good things always have to be expensive?
Acer's Chromebook 314 is proof that quality and affordability can be a good thing for a writer. With a price under $200 you can't beat that.
With its full HD display, you can write (and edit) without straining your eyes. And with its long battery life, you can keep the words flowing even when you're far from an outlet.
7. HP Dragonfly Folio G3
If you're like me and love writing in a peaceful state, the HP Dragonfly Folio G3 could be your perfect match. It's light, portable, and has a beautiful display that makes your words pop.
While on the pricier side, this portable laptop is sleek, smooth and and easy to go into your bag so you can write in a library or outside.
Plus, its keyboard is so comfortable, you might just forget you're typing!
8. Dell XPS 13 Plus
Size does matter when you're constantly on the move.
The Dell XPS 13 Plus is small in size but big on features.
Its vibrant display brings your words to life, and its powerful performance ensures you won't be left waiting when inspiration strikes.
9. Samsung Galaxy Book 3 Ultra
If you care about aesthetics as much as performance, the Samsung Galaxy Book 3 Ultra won't disappoint.
Its slim design is a sight for sore eyes, its AMOLED display makes every word look stunning, and its performance is top-notch. This is a sleek laptop that will get looks.
Find a Laptop For Your Business
I hope you enjoyed this list! Let me know what laptop you have for your writing and client pieces.