"Work is kind of like jail."
I spoke to another American in Mexico City who did not want to use his name for privacy concerns. He works for a consulting firm in the U.S. and has been living in Mexico City for 10 months. Before that, he spent more than a year hopping across countries in South America; often with other digital nomads he met along the way.
"Work is kind of like jail. It's been like jail," he said. I don't know why we all have these 9-to-5 offices and stuff. We work to live, which is crazy. There needs to be a balance and I think nomad [lifestyle] really gives that opportunity to have you be able to reflect; have you been able to wander and gaze and engage with people" he said. "Take that space to actually live in the world and not just live in this cycle of going to work and going home."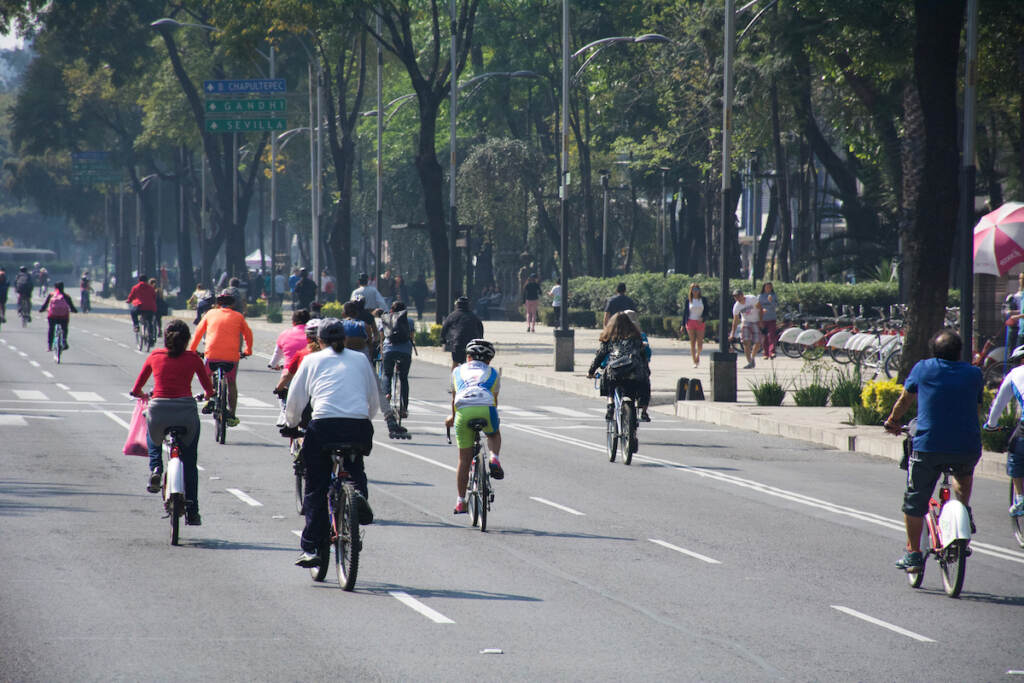 Becoming a nomad
Hannah Dixon has met hundreds of digital nomads. She lives in Puerto Vallarta, Mexico, but had previously been on the road for 15 years, working odd jobs in bars or on farms to finance her adventures. Then, through a friend, she got interested in digital skills like social media management and building websites. Soon after, she started an online program called Digital Nomad Kit, which has since trained more than 30,000 freelancers to become what she calls "virtual assistants." 
"We help people discover what existing skills they have, from their previous experience, and package that into a service-based business, and then how to market themselves, find clients, keep clients, all that kind of stuff," Dixon said.
Since the start of the pandemic, Dixon's business has skyrocketed.
"Things have ten folded," said Dixon. "It's like everybody wants to work online. I see so many people moving into freelancing now especially when their jobs ask them to come back. We're getting people coming from corporate saying, 'f' that — I would rather do my own thing."
Dixon says for many people, working from home for the first time during the pandemic brought them a new perspective:
"[No one is] breathing down your neck all the time. And for women, this is a huge thing. You get to be at home, take a stroll in the middle of the day somewhere you actually enjoy being. People who didn't work remotely before are now like, 'Oh my god, I can't believe that we ever worked in an office.'"
A changing city
Moving to countries like Mexico aren't without challenges, though. The consultant told me that as a minority, he's experienced racism here. There are language barriers. And both he and Allison Bishins say that the wave of migration has led to gentrification and some resentment against foreigners. 
"I think some people are happy that we've brought money here," said Bishins. "But they're not happy that we're here, right? And that's okay – they're allowed to feel that way."
My uncle Jaime Aronowitz grew up in Condesa in the 1970s and he remembers a very different place. He says it was mostly residential when he was a kid – everyone knew everyone. It was walkable and very quiet.
"It wasn't an expensive place," said Aronowitz. "The opposite. The restaurants were the cheapest in Condesa."
Today the neighborhood is a lot more expensive. It's full of restaurants, bars, nightclubs, and it has an international flair.
"We never heard English or even French," he said. "Now, it happens every day. There are more bidding wars to buy a place and that, of course, raises the prices."
I asked some locals if they had noticed inflation and gentrification. Long-time resident Alex Sucar told me that when he tried to renew a lease on his apartment, an American outbid him by offering to pay 30% more. Another man spoke to me about how the currency exchange benefits certain foreigners.
"Mexico City is becoming more and more gentrified, so everything is inflated," he said in Spanish. "It just keeps going up – the rent, the food, entertainment."
A new work-life balance
Allison Bishins feels conflicted about the changes foreigners like herself have brought to Mexico City. But she's grateful for the fresh perspective moving here has given her, especially a new outlook on work. She grew up in a religious cult where even kids were required to work.
"I was like 11 with a demo hammer and a hard hat demoing places for like $4 an hour," she said. "And the moment that I started earning money, I was not given a choice. I had to tithe 10%. And that was true for all of the kids in my family. You were expected to just work yourself to the bone all the time with literally no self-care."
Bishins hasn't stopped since then: She worked all throughout college, in graduate school, and even while traveling abroad. When she was employed at a policy nonprofit in Washington DC, she says it was normal for her to put in up to 70 hours in a week.
Bishins remembers a trip she took to Eastern Europe right before starting graduate school. She said it was one of the few moments in her life where she felt a strong sense of independence from her family's expectations and the intense work culture she had internalized as a child.
"I remember it feeling like the first time in my entire life that I was not beholden to anyone," she said.
Bishins said at times she's felt that same freedom in Mexico City.
"I actually often feel it when I'm walking around," she said. "I try and really taste the coffee and feel it on my tongue and observe the people that are there and watch the birds and the trees and the little lizards climbing up the trees next to me. I have a lot more time for that now."
"I think a lot of people are having the same feelings that we were: Is this life that I've created for myself what I would create if I got the chance to start over? What coming to Mexico City has allowed us to do is start over with who we are. Like, who am I as a person? What is my personality? Because the people that I felt like I had to perform for, they're not here anymore. So, now what do I want to be?"