We may earn income from links in this post. Please read this Disclosure for details.
Wondering where to eat in Anguilla? We've eaten our way across this beguiling island in the eastern Caribbean scouting out the best food and drink.
Check out our picks for the best restaurants in Anguilla. Many have incredible views!
Discover fantastic local flavours, fine dining, fun beach bars and traditional Caribbean cuisine without even leaving the beach!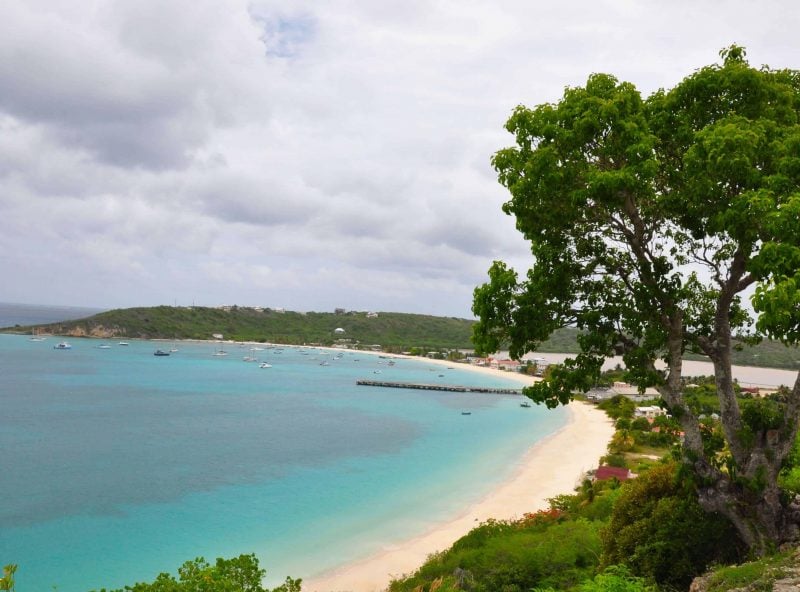 I first visited this small, uncrowded island located near St. Maarten/St. Martin almost 10 years ago to attend the Anguilla LitFest, an annual celebration of writing and literature.
Each time I've returned, I've been amazed at its culinary scene.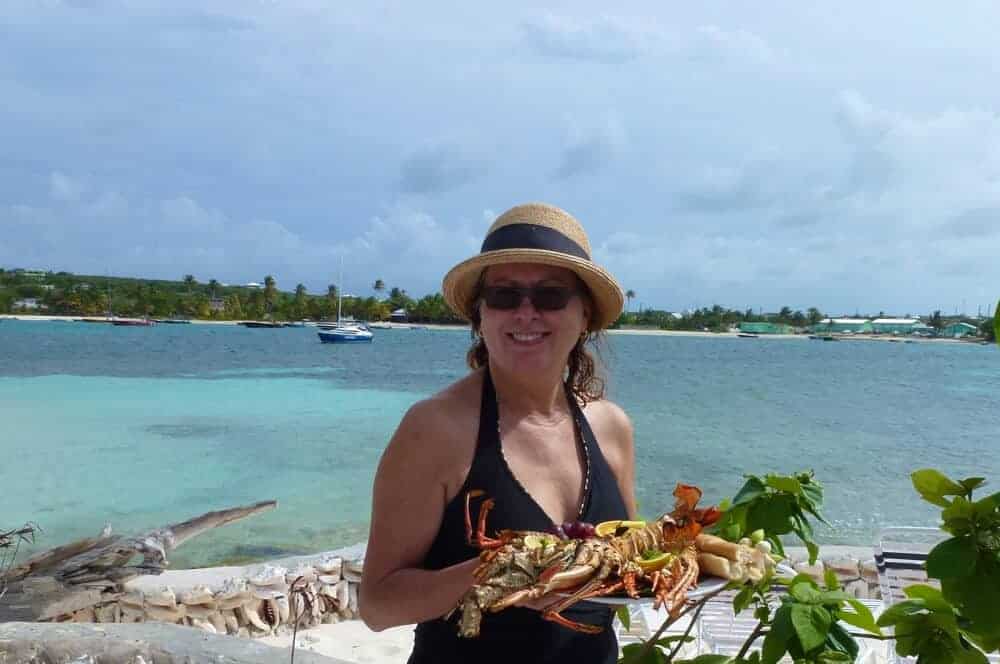 Dining out and exploring the food scene is one of the best things to do in Anguilla!
From sophisticated, high-end restaurants to beach shacks to food trucks, here are some of my favourite places to eat in Anguilla. Many have epic views!
My original list of the best restaurants in Anguilla was updated and expanded by Caribbean experts Mark Stevens and Sharon Mathews-Stevens in Spring 2023.
It includes lots of new food and drink finds, original photos and insider tips. Check out their fave Anguilla beach bars too!
1. Blanchard's Beach Shack and Blanchard's Fine Dining
For daytime casual fare, it's definitely worth stopping at Blanchard's Beach Shack, located on Meads Bay on the western end of Anguilla. 
This stretch of pearl white beach is a magnet for celebrities, politicians and business moguls but also happens to be a top destination for food fans.
One of the best restaurants in Anguilla for families with children, Blanchard's Beach Shack features crave-worthy, toes-in-the-sand casual fare such as fish tacos, hot dogs, French fries and seafood. 
Order at the window for take-out food to enjoy beachfront. It's the perfect spot for laid-back dining after a day of water sports.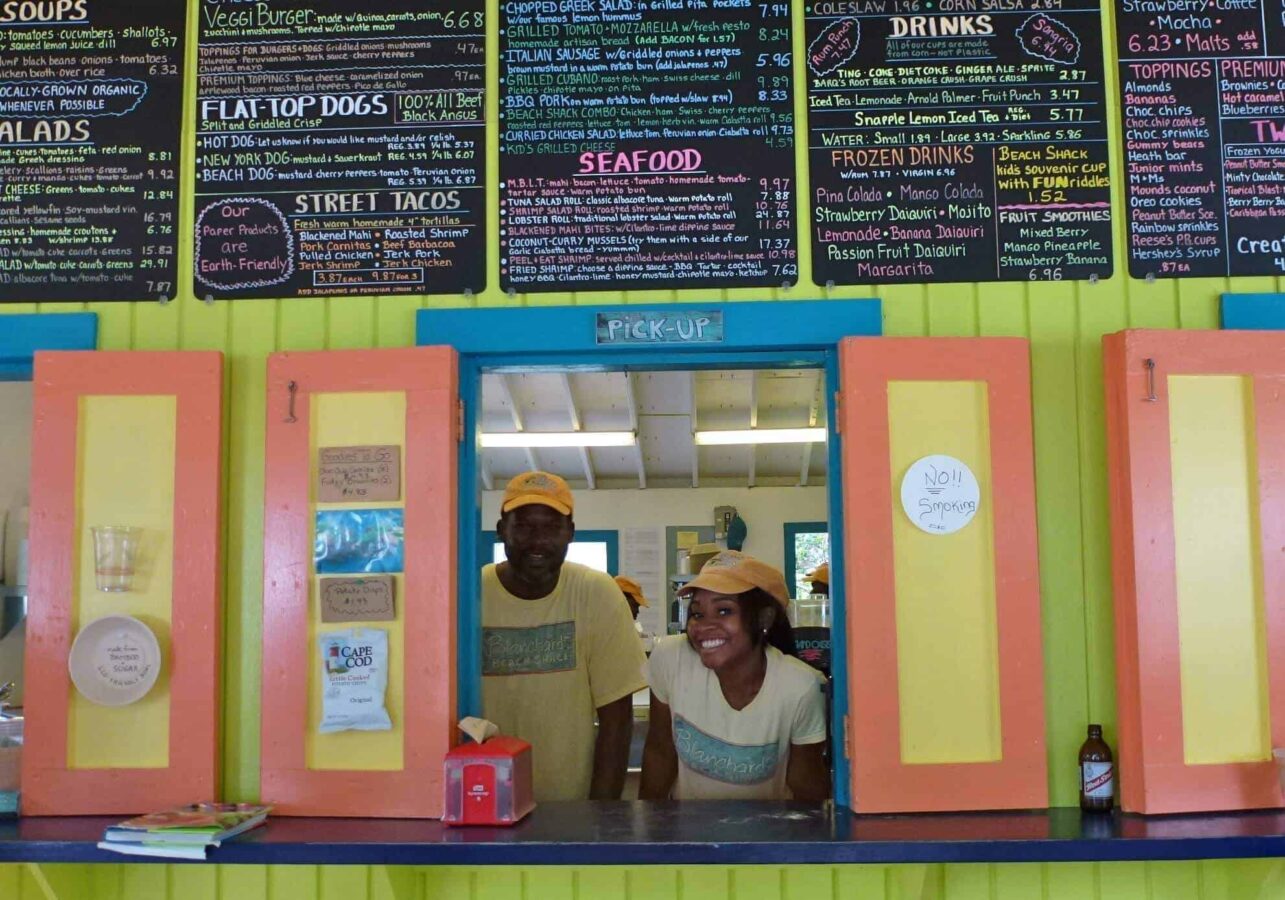 It was founded by Melinda and Bob Blanchard, who wrote about their experience in their best-selling memoir A Trip to the Beach.
This beach-read is not only entertaining but it's an inspiration to anyone who has every dreamed of transforming their life.
For romantic dining, Blanchard's Restaurant (located next to its beach shack) earns top marks for both its upscale beach house ambiance and memorable cuisine.
It's famous for creative interpretations of classic Caribbean fare. You can expect seasonally inspired dishes that showcase the best local and imported ingredients.
Menu highlights include sharing plates such as jerk shrimp with sweet-tart cranberry relish or chickpea fritters with hummus and Signature Plates of grilled sweet Anguilla Crayfish.
🌟 Insider's Tip: There's free wifi at the beach tables at Blanchard's Beach Shack.
2. Celeste at Malliouhana: Come for the View and Stay for Haute Cuisine
Located clifftop at Malliouhana Resort, one of Anguilla's premier properties, the Celeste Restaurant offers tables strategically placed on three different levels. Treat yourself to dynamite sunset views or panoramic views of Meads Bay, one of Anguilla's prettiest beaches.
They might describe themselves as "casual elegance" but I just call it elegant. Think linen tablecloths and blue crystal glasses highlighting a crisp, clean nautical décor.
One of their must-try menu items has to be the Red Snapper. It's perfectly cooked and accompanied by charred corn and asparagus.
But don't overlook the lobster bisque. I've done lobster dishes from Grenada to Tortola in the British Virgin Islands and this delight tops that list.
"Our menu focuses on the sea with a global focus," says manager Chesney Hughes.
That focus was reflected in both my appetizer and my entrée. This lends support to my theory that you might book a romantic dinner here for the amazing views but what you'll likely take away is the indelible memory of haute cuisine.
🌟 Insider's Tip: Given the downright Baroque ambiance of their Bar Soleil just around the corner, make sure you head there for an after-dinner – or before-dinner – cocktail.
3. Sandbar: Seaside Elegance at Sandy Ground
Though its location beachside at Sandy Ground might make you think of a beach bar (and there's no shortage of great beach bars in Anguilla), any similarity disappears the moment you step inside.
Although your table might be mere metres from the beach itself, the recently-renovated dining room at Sandbar is pure elegance.
Brought to you by Carrie and Jerry Bogar, owners of the popular Veya Restaurant nearby, this establishment is a hallmark of seaside sophistication.
They're open for dinner from Monday to Saturday.
"We've kept some of the most popular menu items from the previous owners like the Tuna Poké," says co-owner Jerry Bogar, "but our focus is really clean flavours with international flair."
That's thanks to a partnership between chef Carrie Bogar and executive chef Kerry Richardson, formerly of Veya.
Best yet, you can complement your entrée with an offering from their extensive wine list with more than a hundred selections.
Furthermore, you'll be entertained by live music most nights of the week.
🌟 Insider's Tip: Start with their truffle fries in tempura batter and finish with their irresistible Johnny Cake Sundae.
4. Straw Hat Restaurant: Dreamy Sunset Views and Caribbean Cuisine
Open seasonally (November to April) for breakfast to dinner, Straw Hat Restaurant is the quintessential Caribbean outdoor dining experience.
One of the best places on Anguilla to enjoy the island's spectacular violet-hued sunsets, the food is equally memorable and earns rave reviews.
While you'll need a reservation for dinner (6-9 pm) to score a bowl of their dreamy Caribbean bouillabaisse, Straw Hat's lunch and late afternoon menus feature equally beguiling choices.
Straw Hat serves shrimp, mahi mahi and lobster tacos drizzled with mango crème fraîche, and grilled meats served with sides of lobster mac and cheese, fragrant coconut rice and more.
Located in the Frangipani Beach Resort (Google Map), Straw Hat is a good option for family-friendly dining. They've got best kid's menu on Anguilla.
🌟 Insider's Tip: Don't miss an order of the house-made fried plantain chips!
5. Scilly Cay Anguilla: Play Castaway on an Offshore Island
Located next to the island of St. Martin – Ste Maarten, Anguilla is composed of 33 uncrowded beaches and offshore cays. One of the best things to do in Anguilla is to head to Scilly Cay off the northeast shore at Island Harbour.
Accessible only by boat, this speck in the sea features calm sapphire waters on one side and determined waves on the other.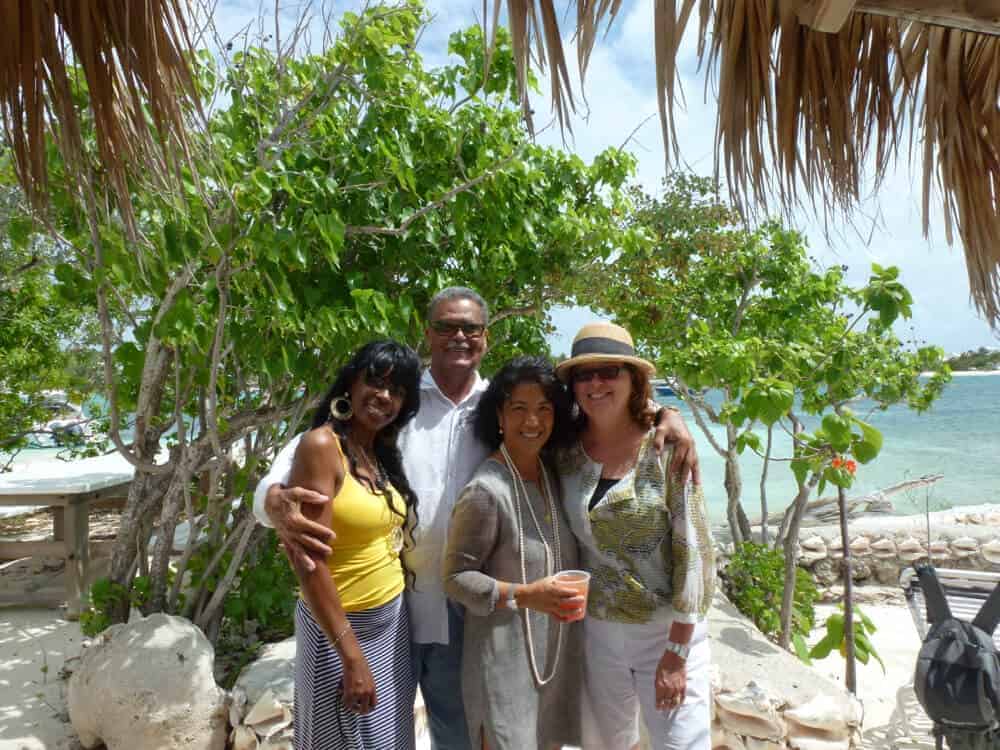 Founded by the late Eudoxie Wallace its open-air kitchen and bar serves up some of the best grilled lobster you'll ever find.
The seafood here is so fresh you can see red speckled lobster swimming within tidal pools that serve as natural aquariums keeping them fresh until dinner.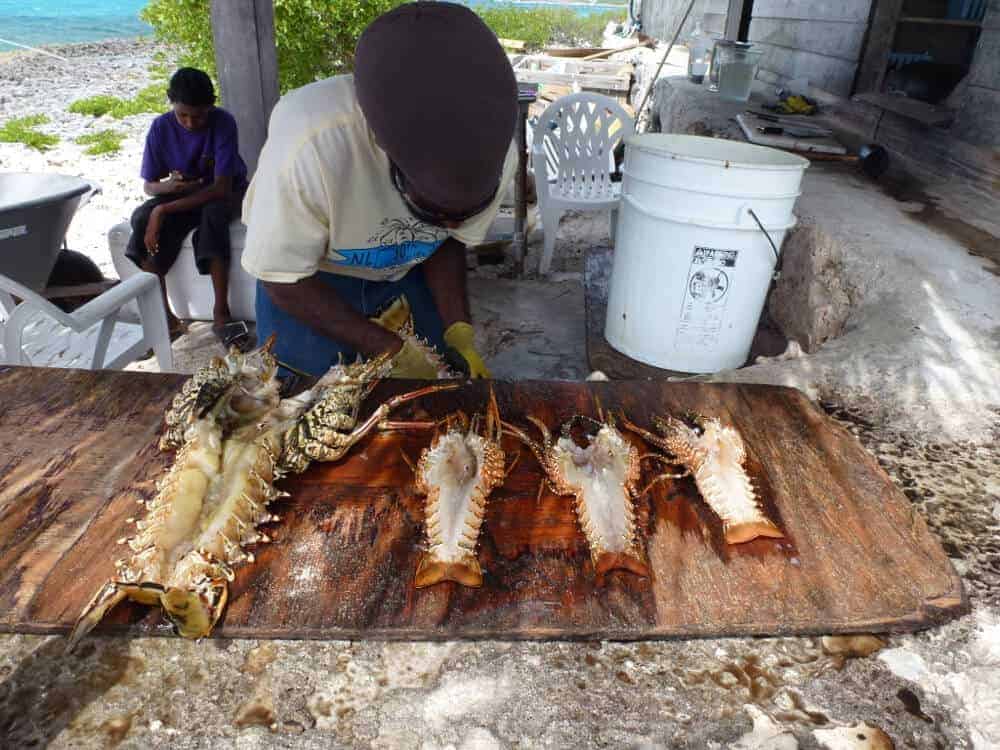 The menu — lobster, crayfish and pasta salad — matches the simplicity of the setting which is basically picnic tables in the sand.
Each platter of seafood comes perfectly spiced and is paired with French bread as warm as the trade winds.
6. Da'Vida: The Best of Both Worlds
Dominating the gorgeous beach at Crocus Bay, Da'Vida (Google Map), long considered a hallmark of Anguilla fine dining, is named in tribute to David and Vida Allen, proprietors of one of Anguilla's first hotels.
But Da'Vida isn't just a great place to eat.
With a main house formal dining room and a Beach Club boasting natural wood, a deck for seating and even a smattering of beach lounge chairs and picnic tables where they bring your lunch and drinks right to you, Da'Vida offers expertly-prepared food, an equally appealing beach dining experience and even live entertainment on Sunday afternoons.
Be sure to order the grilled conch. It's a highlight of a casual menu boasting favourites like pizza and burgers.
There's also a fantastic seafood selection and even Caribbean offerings like Johnny cakes and rice and peas.
Though the main house dining room has been closed recently they're reopening in October. It will have a new look, a new menu and even a new name.
Chef Prabu (featured in the recent Anguilla Culinary Experience) brings a combination of local and international flavour to the menu at both spots.
According to manager Hasani Derrick, upon reopening the offerings at the reborn main house dining room will "feature a seasonal fine dining menu with a few rotating specials."
Dine at Da'Vida (Beach Club opens at 11 AM daily while the formal dining room with be open daily for dinner only) and one thing's for sure.
You're getting the best of both worlds.
🌟 Insider's Tip: Order their signature Da'Vida Rum Punch before your meal and everything will taste even better.
7. Hank's at Shoal Bay: Best Breakfast on the Beach
Begin your morning as the locals do and head to Shoal Bay for breakfast and a swim.
Regularly voted one of the world's best beaches by beach aficionados (including us!), it's a fringe of palm trees, cottony sand and blue waters that's a popular day trip by catamaran from St. Maarten.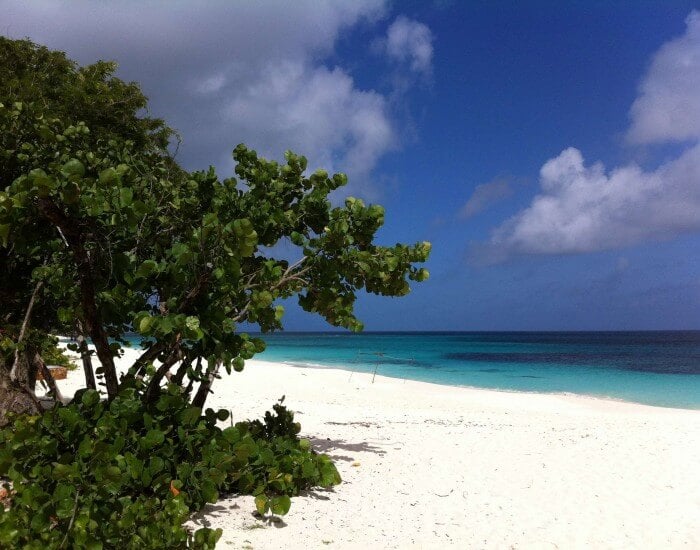 One of the big draws of Shoal Bay is the beach.
Geologically, Anguilla is comprised of limestone created by the fossil remains of ancient sea animals and coral.
So the ocean floor is a marvel of bleached white sand.
Your post-swim destination is Hanks (Google Map), a humble outdoor eatery overlooking the sea.
The sublime view and crispy wedges of potato pancake elevate a simple plate of fried eggs to a memorable event.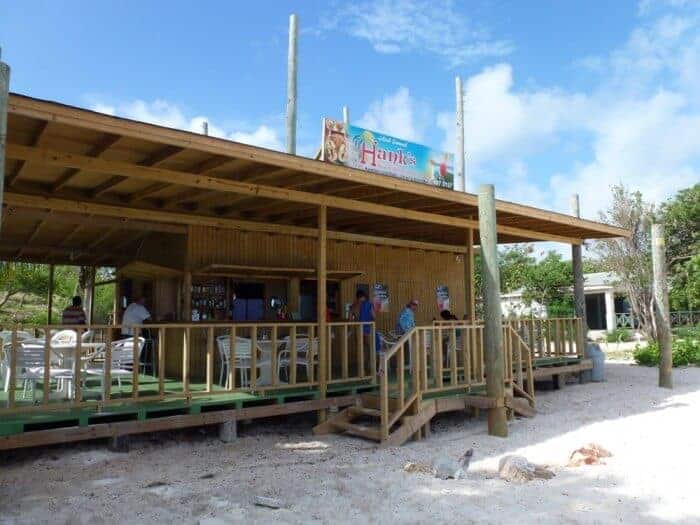 If you stay at Shoal Bay Villas, you're a short beach walk away from Hank's Restaurant. The beachfront condo apartments come fully equipped with kitchens and are ideal for families and couples. The onsite spa is also excellent.
Hank's Beach Bar is located on the beach at Shoal Bay (East) off Bay View Road
Check prices and availability at Shoal Bay Villas on Booking.com 
You'll need a car to get to most island attractions and restaurants in Anguilla.
We rent our cars on Discovercars.com. It's an online car rental booking site that compares rates from several companies to find the best deal.
Check for the best car rental rates at Discovercars.com
8. Tasty's Anguilla: Sample Traditional Local Food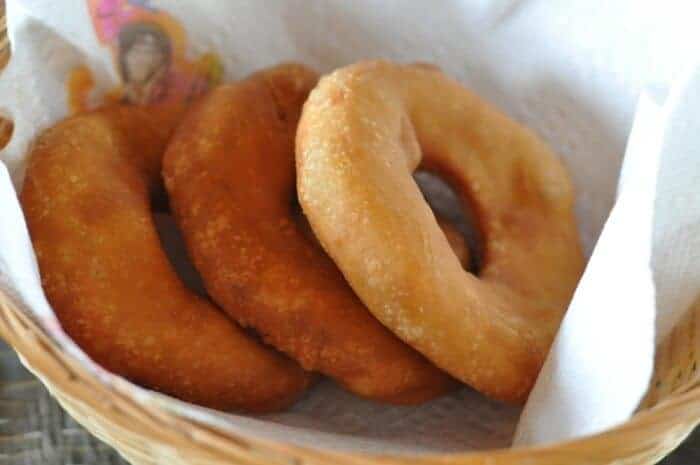 One of the best places for local food in Anguilla is Tasty's on Rte 1 South Hill (Google Map).
Its atmosphere is geared to fuelling its loyal fans who flock here for breakfast, lunch and early dinners. Expect generous portion sizes and loads of Caribbean flavour.
Tasty's Owner and Chef Dale Carty is a native native Anguillian and highly acclaimed for his inventive interpretations of Caribbean classics.
So you won't be disappointed with winning dishes such as the omelette bursting with tender local seafood, conch salad, curry goat or coconut lobster stew.
Many of the dishes are served with Johnny Cake, a cornmeal flatbread that's also a staple on many other  Caribbean islands.  The name is derived from "journey cake" to reflect its origins as a food carried on long travels.
On Anguilla there are as many variations of johnny cake as there are cooks. But the Johnny Cake at Tasty's comes deep-fried to a golden brown and a fluffy, melt-in-your-mouth interior.
🌟 Insider's Tip: For a fun twist on a classic, head to Leon's on Meads Bay to try their Johnny Cake Jerk Burger. This grilled patty of jerked beef comes slathered with spicy mayo and is tucked inside a warm Johnny Cake.
Time your visit for the weekend for live music/DJs and drink specials.
9. Dune Preserve on Anguilla: Cocktails and Live Music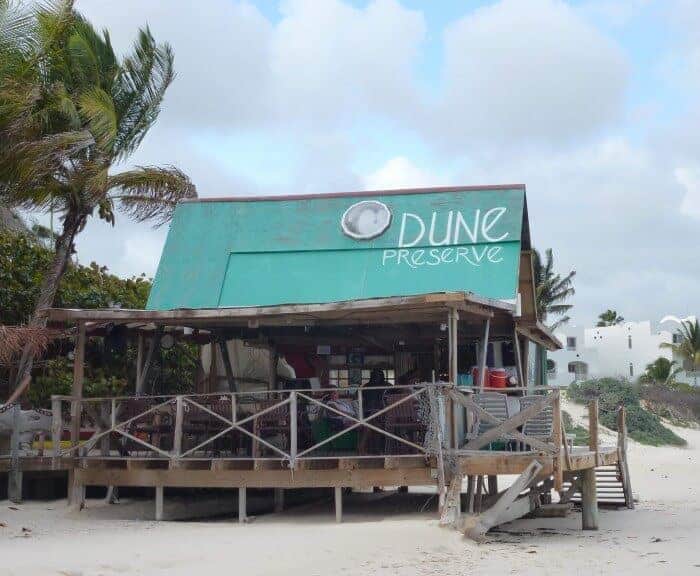 Nightfall on Anguilla doesn't mean casinos, neon nightclubs or theatrical liquid nitrogen drinks. Instead, it's all about sand mashing (beach dancing), live music and relaxed cocktails.
There's no other spot that epitomizes this laid-back vibe as much as Dune Preserve. Owned by reggae musician Bankie Banx, the bar is a sprawling construction of driftwood, old boats and rope on Rendezvous Bay that feels more wooden raft than building.
Although the bar is known to draw big name musicians and live bands such as John Mayer, the Wailers, Jimmy Buffett and Omari Banks, you might also experience some experimental poetry or theatre.
While there, sip a Duneshine cocktail (the fermented ginger drink that's a house specialty) while listening to the lapping of the waves and gazing at the flickering lights of the French island of St Martin across the bay. No neon needed.
With its fun nightlife, Anguilla also happens to be a top choice for a girls' getaway. Check out why in our post on Great Girlfriend Getaways in the Caribbean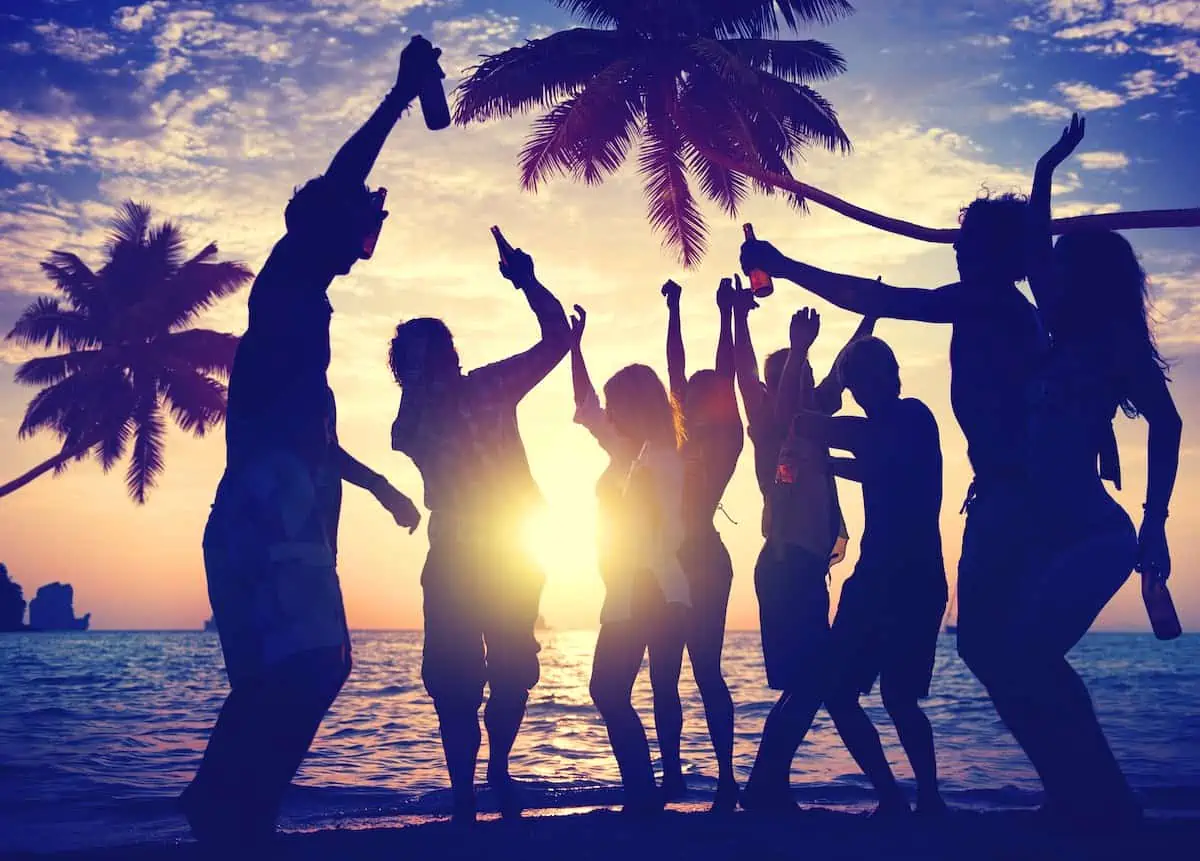 Insider Tip: For other fun Caribbean beach bars and parties you don't want to miss, check out our travel guides to the Shirley Heights Sunday Party on Antigua and Full Moon Party in the British Virgin Islands.
10. Hungry's Food Truck & Restaurant: Anguilla Street Food and Cheap Eats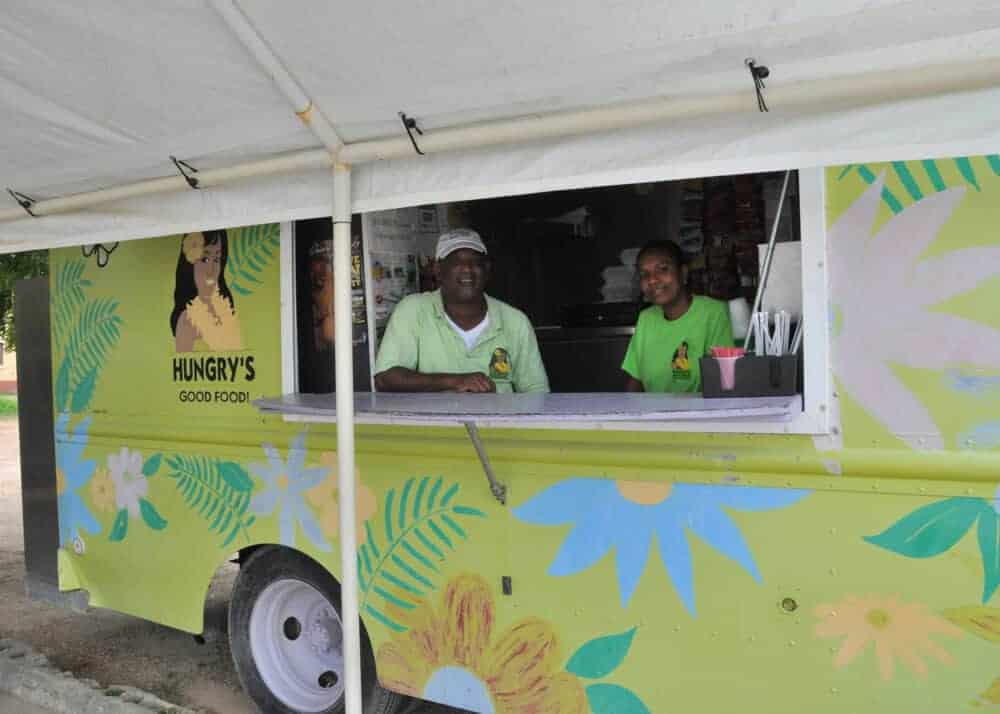 Long before the food truck trend hit North America, mobile food vending was popular in Anguilla. It answered the call of locals looking for a quick traditional meal.
Located in The Valley next to the Fish Depot (Google Map), Hungry's food van is one of the most famous.
Operated by Irad Gumbs and Alfonzo (Papi) Hodge, it's expanded to include a dine-in restaurant but the menu has stayed true to its original winning line-up.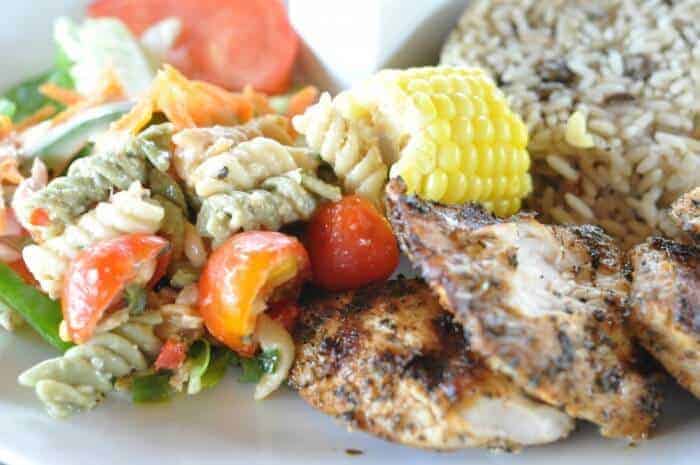 The menu at Hungry's features economical comfort food that hearkens back to the days of Creole home gardens filled with pigeon peas, root vegetables and corn.
Much of the island's rich West Indian legacy can be seen in goat and chicken dishes, domesticated animals that can survive on Anguilla's scrubby soil.
Hungry's is one of the best places to try popular Anguilla traditional food such as bull foot soup, pea soup with pig tail, shrimp Creole and fresh fish.
Curious about Anguilla's national dish? It's pigeon peas and rice. This is the place to try it!
🌟 Insider's Tip: Hungry's is one of the most economical places to eat on Anguilla as a bowl of soup costs around $7 USD.
11. Jacala Restaurant: Swoon for French Caribbean Fusion Cuisine
Owned by Jacques Borderon and Alain Laurent, who first worked together at Malliouhana, the menu is French-inspired and barefoot chic.
While reservations are needed for evening dining, a pretty table just steps from the sand is easily had at lunchtime.
One of the top starters is a refreshing chilled cucumber soup with spicy tomato sorbet accompanied by bread that tastes as though it comes straight from a Parisian boulangerie.
Also a popular choice for romantic dining, Jacala has a well-deserved reputation for upscale cuisine. It's definitely one of the top restaurants in Anguilla to add to your list so reserve well in advance.
Located on the beach road parallel to Mead's Bay. Call 264-498-5888.
🌟 Pro Tip: Another top place for French cuisine in the Caribbean is the island of St. Barts. Take a ferry there for the day or charter a catamaran for a relaxed day on the water that includes lunch in Gustavia.
12. D. Richard's: A Hole in One
This iconic property with a breezy location on Rendezvous Bay (Google Map) has much to enjoy from a culinary perspective.
If you're a golfer you're probably already discovered the appeal of D. Richard's, the newest addition to Aurora Anguilla Resort & Golf Club (the former CuisinArt Golf Resort & Spa).
From your table surrounded by natural wood and leather furnishings soak up the amazing views through the towering floor-to-ceiling windows.
There are vistas of the Greg Norman-designed golf course for foreground and the distant hills of St. Martin for background.
If you're a meat-lover, D. Richard's is an Anguilla must-do.
Billed as Anguilla's best steakhouse (it's the only one), D. Richard's offers up carnivore delights ranging from Wagyu fillets to a 42-ounce Tomahawk chop.
Best yet, whether you do lunch or dinner, the veggies accompanying your main will be some of Anguilla's freshest, thanks to their onsite hydroponic farm.
This onsite greenhouse, (established by leading hydroponics expert Dr. Howard M. Resh), produces a bounty of fresh vegetables including vine-ripened tomatoes, lettuce, cucumbers, peppers and herbs grown in hydroponic nutrient cultures.
While most Caribbean islands import their produce which results in poor quality for perishable ingredients, these crops are harvested year-round.
Do dinner at D. Richard's and you'll feel like you'd scored a hole in one.
🌟 Insider's Tip: Offering a distinct lunch menu, D. Richard's is open daily from 11 am to 4 pm. There's a dinner menu from 6 pm to 10 pm Tuesday to Sunday.
13. SALT at the Four Seasons Anguilla
The Four Seasons Hotel and Resort Anguilla is one of those places you never want to leave. Set on a headland flanked by Meads Bay and Barnes Bay, the contemporary architecture evokes a feeling of being surrounded by sea and sky.
The decor by Kelly Wearstler, the celebrated American designer to stars such as Gwen Stefani and Cameron Diaz, is both earthy and glamourous.  If you don't overnight, soak up the privileged ambiance by dining at SALT, the Four Season's signature restaurant.
The breezy ocean views are complemented by a menu that's both fresh and creative.
There's a wealth of vegetarian, vegan and gluten-free options.  It's definitely one of the best restaurants on Anguilla for a romantic dinner.
Other Top Anguilla Restaurants and Foodie Travel Tips
The above are just the beginning to a culinary vacation on Anguilla. Other top places to eat include:
the beach restaurant on Sandy Island features a more extensive menu than other offshore cays. Be sure to order a rum punch!
For fine dining, try Cap Juluca on Maundays Bay.
If you're craving Italian food, Dolce Vita is your best choice.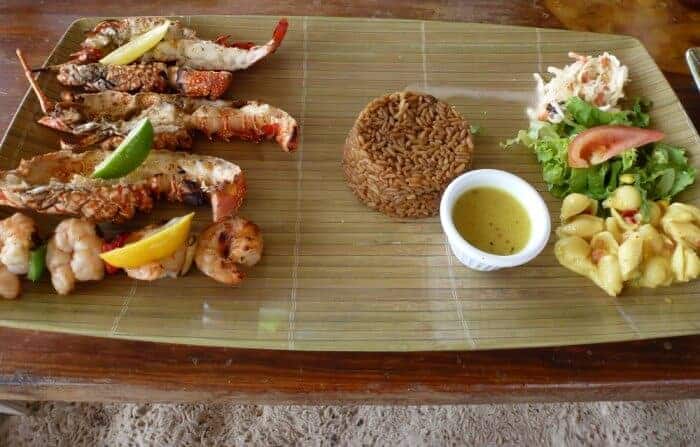 Official Anguilla Tourist Board
Visit www.ivisitanguilla.com
Weather in Anguilla
If you're headed to an offshore cay for lunch, call the restaurant first. If it's windy, the boats might not be available so it's wise to have a back-up plan for lunch.
Tipping in Anguilla
Bills often automatically include a gratuity of 15% so check before calculating a tip.
Mosquitoes in Anguilla
Much as in other Caribbean countries, you may encounter mosquitoes in Anguilla when dining outdoors. While dengue, chikungunya and zika are sporadic, you should reduce your risk of infection and disease by avoiding mosquito bites.
Use insect repellent with DEET (50%) and follow these tips to protect yourself from mosquito bites.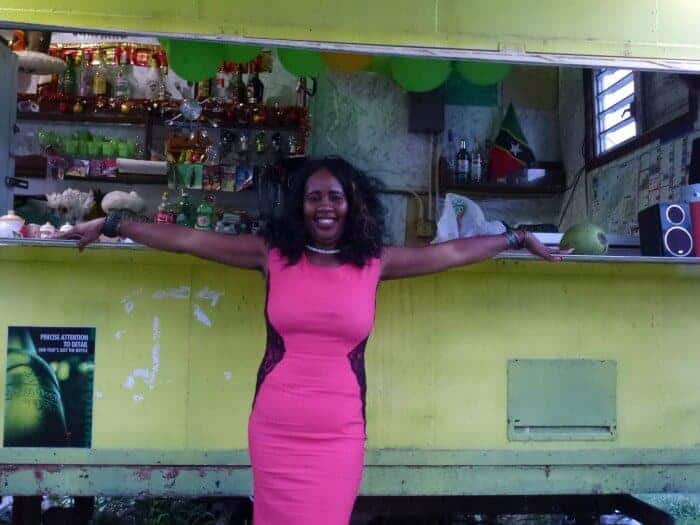 FAQs
Is Anguilla Expensive to Visit? 
While Anguilla can be very expensive to visit, there are budget-friendly options. If you opt for a hotel with a kitchenette, you can enjoy breakfasts and some meals at home. Lunches are often less expensive than dinners. Food trucks are a great option for cheap eats.
What Do They Eat in Anguilla?
When it comes to traditional food on Anguilla, you'll see grilled jerk-style meats and fish, pigeon peas and rice, provisions (tubular root vegetables) callaloo soup and other savoury foods also popular on Grenada and many other Caribbean islands.
Other Fantastic Things to Do Around Anguilla
Save to Pinterest! 
Dividing her time between Canada, Guatemala and Mexico (or the nearest tropical beach), Michele Peterson is the founder of A Taste for Travel. Her award-winning travel and food writing has appeared in Lonely Planet's cookbook Mexico: From the Source, National Geographic Traveler, Fodor's and 100+ other publications.
Read more about Michele Peterson.